Freedom from the confines of classroom
View(s):

The students visit the library, post office, markets and gardens and learn the real-life applications of their lessons. Photo : R. Ravindran

Sunitha Sekar talks to a teacher whose preferred method of teaching is field trips.

For many students, school is often a dreary experience — hours of seemingly endless classroom sessions interspersed with snatches of carefree enjoyment on the playground. However, for the 60-strong group of class VI students who have C. Thilakavathy as their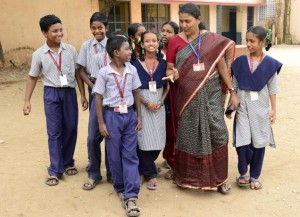 teacher, school is an altogether different cup of tea. The 46-year-old who has been a teacher at the Chennai Corporation School in Ayanavaram has a different philosophy of teaching that involves taking students out on field trips during school hours.
"I take my class to various spots near school and allow them to observe real-world applications of the lessons. Last week, for instance, I took them to a park and showed them how plants should be watered without wasting water. Though I began this practice casually to help them, I realised it had had a positive impact on them," said the graduate in history. She began the practice several years ago when she became the class teacher for a middle school section. She has continued the practice since.
The class usually goes for a trip once a month. Thilakavathy completes her lessons ahead of time and accompanies them to places such as the library, post office, parks and markets during her allocated periods. Recently, Ms. Thilakavathy took her students to the nearby post office and taught them the importance of savings. G. Hemavathi, one of her students said, "We look forward to such outings because our world essentially revolves around the classroom and home. When we visited the post office last week, I got to know why I need to save money and how it may come handy someday."
This exercise has also been a fairly easy task to accomplish as the parents of the children and the school authorities have been very encouraging.
"Although the syllabus encourages teachers to take up such tasks, many don't do it since it is not mandatory. But we are proud that Thilakavathy has invested so much time for her students," said P. Saravanan, Assistant Headmaster of the school. Ask her why does this, she politely responds: "They are my kids. If I don't give them the necessary exposure to what happens around them, who else will?"
thehindu.com
Follow @timesonlinelk
comments powered by

Disqus