An unbiased blueprint
View(s):

Demanding RTE norm of pupil-teacher ratio. Photo: M.A. Sriram

Teachers' unions and educationists agree on a broad outline to strengthen the education system
Representatives of teacher unions, civil society activists and educationists from 24 States have joined hands for equitable and quality education for all children.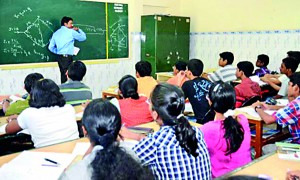 At the end of a recent two-day meeting at Bhubaneswar, under the banner of the RTE Forum (Right to Education Forum) and AIPTF (All India Primary Teachers' Federation), the representatives agreed on a broad outline to work towards strengthening the education system across the country, including preventing increasing privatisation and commercialisation of education.
Pointing out that increasing privatization and commercialization puts the hopes of children from marginalised communities at risk, the federation has resolved that substantial portion of its work would be devoted to working for child rights.
In a resolution adopted at the conclusion of the meet, the representatives demanded that the Right to Education Act must be extended to include Early Childhood Care and Education.
This was in addition to seeking allotment of six per cent Gross Domestic Product to education as committed by the State in successive education policies, and additional funding be announced to bring about equitable, quality education for all children.
Protecting all school spaces from being privatised, including through entry into public private partnerships (PPP) and keeping the teacher posts intact against privatisation, filling all vacant teacher posts with qualified, trained candidates to ensure the RTE norm of pupil-teacher ratio of 1:30 at primary and 1:35 at upper primary level are among some other demands.
Every school must have a democratically constituted school management committee (SMC) with full powers. The SMCs need to be trained and supported to play the role expected and the school development plans prepared by the SMC should serve as the basis for allocation. Curriculum and syllabi shall be revamped with immediate effect to ensure that they are free of bias, based on multiple sources of facts and evidence and in keeping with the constitutional principles with special emphasis on addressing discriminatory practices against Dalit, tribals, Muslims, girls, children with disability and other marginalised groups.
–thehindu.com
Follow @timesonlinelk
comments powered by

Disqus