Letters to the Editor
View(s):

Memorable journey to the land of the Lord Buddha

On October 19, 2012, my wife and I joined a group of pilgrims on a pilgrimage to Dambadiva, India, where the story of the Lord Buddha begins. We started our journey to Sankassa, where Lord Buddha descended from the Thouthisa Heaven after preaching the Abhidhamma doctrine to his mother, Matthru Divya Rajaya.

We were then taken to Baranasa-Isipathanaya, the deer park where the Lord Buddha delivered His first sermon to the five disciples after His Enlightenment. We chanted the Dhamma Chakka Suthraya in the Mulagandha Kuti Viharaya.

The most important place to my mind was where the Bodhisathva attained Enlightenment or Buddhahood – on the Vajrasanaya in front of the holy Sri Maha Bodhiya. It was a pleasure to see the statue of the Lord Buddha with all the Dethis Maha Purusha Lakshana built during the time of King Darmasoka. There are many stories to say that this was built by Maithree Bodhisathva. We observed sil at Buddhagaya. We next went to see the Dhurgeshwari, where Bodhisathva underwent a difficult period of six years to attain Enlightenment. Next, we visited the Gijjakuta Rock, where Devadatta rolled a boulder with intent to kill Lord Buddha. We also visited King Bimbisara's Prison and the Vishala Maha Nuwara, where Lord Buddha chanted the Rathana Sutthraya to overcome the Durbiksha in the city. We saw the famous Buddhist monastic university Nalanda, where thousands of monks study religious scriptures and disciplinary rules.

The other important place was Kusinarapura, where the Lord Buddha passed away. The statue here shows the true death posture of Lord Buddha, which brought tears to our eyes. We covered the statue with a specially stitched Saluwa, brought by our sister Priyanthi.
We saw Lumbini Sal Uyana in Kapilawasthupura, the birthplace of Bodhisathva, where Lord Buddha performed Yamaka Maha Prathiharaya to overcome the pride of the Shakyas and the relatives, who doubted His capabilities.

We observed sil at the Jethavanaramaya and offered a Sangika Danaya and Atapirikara to the priest. Lord Buddha spent 19 years at Jethavanaramaya, preaching and advising the people about His doctrine. We saw the ruins of Dham Sabha Mandapaya , Gandha Kutiya, Ananda Kutiya, Seevali Kutiya and many others. We saw stupas embedded with relics of Lord Buddha and His disciples. We were blessed by keeping on our heads the Karaduwa, relics of Lord Buddha in Kapilawasthupura.

We covered the Ananda Bodhiya with rose petals and lit lamps and chanted pirith, which transformed the place into a fairyland of splendour.

The late Anagarika Dharmapala was instrumental in liberating all Buddhist religious places in India from the clutches of other religious leaders such as Mahantha. He cleared the place for Buddhists to worship freely. May he attain Nibbana for the yeoman service rendered to the Buddha sasana.

D. L. B. Rajapaksa Via email

Every citizen's duty to fight  pollution and save the country

Natural disasters are rearing their ugly heads the world over. These are the result of climate change and human activity detrimental to the environment. We Sri Lankans, residents of the global village, are caught up in such disasters.

These natural disasters are complex problems related to development. Even the environmentalists seem unaware of the causes of earthquakes, landslides, floods, changing wind patterns, and so-called "alien" activity.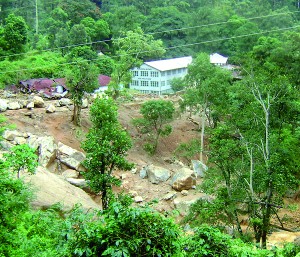 Almost all countries are victims of environment pollution caused by excess carbon dioxide. Developed and industrial countries are the biggest offenders.
In Sri Lanka, the districts of Matale, Badulla and Nuwara Eliya, as well as the Northern, North Central and Eastern Provinces, have experienced landslides and earthquakes. Some believe the construction of buildings, expressways, bridges, concrete roads and forest destruction have led to climate change and natural disasters. Garbage that is not bio-degradable is a major cause of pollution.
BBC Sandeshaya highlighted floods, death and destruction in the Eastern Province caused by rapid development programmes . Feasibility studies were not conducted before the Kantalai main road was rebuilt.
It is every Sri Lankan's duty to do his and her bit to reduce pollution and forest destruction and save our environment. That is the meaning of "Happy New Year."
R. Somasiri , Pannipitya
Chainsaw massacre of precious forest cover
It is frightening how fast the country's forest cover is shrinking and disappearing. This dire situation is aggravated by the import of portable machines like chain-saws. There is a big demand for such machinery in forest areas. These machines have become pet-appliances for uneducated school drop-outs. In gangs they sneak into forest areas and illegally fell trees. These greedy morons use mechanised tools to meet the demand for timber.
If this rape of forests continues, our verdant island will soon become a desert.
K. K. Kulatilaka Amaragama, Elpitiya
Kittens mewing, not lions roaring, in the Cabinet
I hold no brief with any Party or individual, but I stand for forthright statesmanship and integrity. Last Sunday's 5th Column, written by Ryp Van Winkle, revealed the candid truth in a bold analysis.
Formerly vociferous Leftists, now Ministers for this Government, have now become tame lambs, meekly making feeble statements that they cannot agree with certain recent Cabinet decisions.
These acolytes little realise that they too serve in the same Cabinet when such decisions are taken. The reality is that they dare not show any dissension against the President at these meetings. These stalwarts of yesteryear should be able to convince the President of the dire consequences of such unhealthy decisions. But they make puerile statements to show their innocence and disown responsibility.
As pointed out in the article, former Leftist leaders of the calibre of N. M. Perera, Colvin R. de Silva, Philip Gunewardena, Robert, Dr. Wickramasinghe, must be writhing in their graves when they see their former Marxist students, such Vasu, Dew, Vitharana and Athauda, behaving like innocent kittens in the presence of their President.
Lionel Caldera ,Battaramulla
Amma, there is no answer when we call your name
LENA PERERA (nee KARUNAJEEWA)
When our Amma, who was ailing for some time, suddenly passed away, it came as a shock to us. We did not realize her end was so near. We were not prepared for what was for each of us a personal tragedy. Her death created not merely a heart-wrenching void but also made us realise how Amma had filled in our lives.
Our beloved Thaaththa, Captain P. W. Perera, died 24 years ago. When Thaaththa went overseas, that was the last time we would see him. On December 5, 1988, we received the sad news that he was no more. We remember how Amma took the shock of his death with enormous courage and fortitude. With Thaaththa's death, Amma became a new woman.
With three daughters to look after, it was amazing how Amma took on the role of both mother and father. Her brothers Hector and Newton Karunajeewa (now deceased) and sister Agnes were a source of strength. But Amma became the man in the house, guiding and protecting her children.
When we look back on her life, we realise that Amma never really felt we had grown up. Even after we had grown to adulthood and married, Amma treated us like little children who had to be kept under her protective wing.
Through the years, Amma was my shadow, always concerned about me, even walking to the door every morning when Anusha and I left for work. We could hear her saying her gathas for our safe return. My husband Palitha and I lived with Amma, and a close bond developed between us.
Amma was an excellent cook, and she loved entertaining friends and relations. Rich or poor, they all enjoyed her hospitality. She was especially fond of making Indian dishes. She had special recipes which to my regret I did not copy down.
As I look back on her life, I am amazed at how generous and helpful Amma was. She would bring home some of her less fortunate relatives who were sick or in trouble and look after them and see to their needs. Amma was a mother not only to her three children but also to our cousins Samantha and Chaminda, whom she looked after like her own children.
Sinhala New Year was a special day for us. Amma made sure her three daughters and my two cousins wore smart matching clothes. As we walked to the temple, she would happily say that everyone would think we were three sisters and two brothers of the same family!
Amma loved to see the five of us well dressed. She selected the colours and patterns for our dresses. I remember how Amma would make even the Army doctor admire our dresses. Our present seamstress spoke highly of Amma's dress sense.
It is not easy to adjust to the loss of a mother who was so much a part of our lives. She was happy when we found employment, and later when two of us married. She took to her two sons-in-law so well that she used to say that she now had three daughters and two sons.
Her daily ritual began at 4 am when she recited her gathas, after which she began her chores, cooking and packing our lunch.
Amma doted on her only granddaughter Nuwanthi, a law student. She had great hopes for her, and her dearest wish was to live to see Nuwanthi settled in life. It is only after her passing away that we see how Amma must have struggled to be both mother and man in the house.
We carry on without dear Amma, missing her protective shadow. We miss her voice and her guiding presence.
Amma's mother died when she was less than two years old, and she was looked after by her stepmother when her father remarried. Amma did not enjoy the love and protection of a real mother. When Amma died, we made a silent wish that if Amma returned to Sansara, she would be blessed with the love of parents.
As the Christmas breezes wafted through our home, we were reminded of Amma. Although a devout Buddhist, she took on the Christmas spirit in December. Christmas was an occasion to pamper her granddaughter Nuwanthi. On Christmas Eve, Amma would take us to St. Mary's Church Dehiwela, where she selected a nice fir tree. This gaily decorated tree was put up at Nuwanthi's home. We marked Christmas with Christmas cake and the exchange of gifts. It all culminated with a grand family lunch at Nuwanthi's home on New Year's Day.
On Amma's last day, she had prepared the meals for the family. Amma will always be with us, her protective arm invisible but still around us.
There is no answer when we call your name
No other face can fill that empty frame
We cannot hear your step upon the stair
We turn to speak and find an empty chair
Something is broken that we cannot mend
Death has done more than take away a friend
Sheep without a shepherd when the clouds shut out the sky
Oh why did you leave us Amma, why did you die?
We are consoled in the knowledge that Amma was a devout Buddhist. We pray that her stay in Sansara will be short and that she attains the Supreme Bliss of Nibbana.
Saumi on behalf of Anusha and Aruni
Devoted Buddhist and loyal old girl of Visakha
CYNTHY NIRMALI DE SILVA
"Piyeyi Vippayogo Dhukko"
This line from the Dhammapada comes to mind when we consider the life of Cynthy Nirmali de Silva, our dear friend and relation who crossed over to the land that is fairer than day. During her last illness, her loved ones looked after her in every way they could until she received her final summons to end her 67-years' pilgrimage on this Earth.
Cynthy's friends from her Visakha Vidyalaya Colombo days came in numbers to pay their last respects, although no obituary notice appeared in the media. That is ample testimony to the unique qualities of love, kindness and compassion Cynthy had towards all, regardless of caste or creed.
The Buddha's teachings and way of life were engrained in her. She traversed the length and breadth of the island on pilgrimages, accompanied by friends and relations. On days of religious significance, she observed the traditional rituals.
Cynthy was a loving wife to Ansingh, a caring mother to her only daughter Thiranga and son-in-law Mallik, and an affectionate grandmother, teacher and playmate to her two granddaughters Malinthi and Sehanthi. She will also be missed by her elder brother Lakshman and his family. She was close as a sister to her cousins. We became a part of Cynthy's family circle when our son married her daughter. We enjoyed Cynthy's warm hospitality and cherished our many enjoyable family outings together.
She was a loyal Old Girl of Visakha, and was active in the Old Girls' Association until her health began to fail.
Cynthy was the epitome of kindness.
Dear Cynthy, may your days in Samsara be short until you attain the Supreme Bliss of Nirvana.
Merril and Srikanthi de Silva
In memory of beloved Prof. Bartho and Peradeniya
E. F. Bartholomeusz
Last year an e-mail was circulated that especially touched the hearts of Peradeniya alumni in all corners of the world. It was titled, "The world's most beautiful university is in full bloom again". Pictures of flowering trees and Peradeniya's scenic surroundings took us back in mind and spirit to the place we were fortunate to call home during an important part of our lives.
Those who gave of their time, energy and wealth to create "the world's most beautiful university" had a vision when they landscaped it. Generations of university students and staff carry in their minds images of the flora of the university wherever in the world they go.
The University at Peradeniya was created by generous endowments of Ceylonese who wished to create an institution for the ages and make a gift to their Motherland.
Another e-mail circulating in the past year, mainly among Peradeniya's Engineering Faculty alumni, was the news of the death, in Arizona USA on October 22, 2011, of former Professor of Engineering Mathematics, E. F. Bartholomeusz (affectionately known as "Bartho" to all) at the age of 91. Born in Maturata in December 1920 to an eminent Ceylonese Dutch Burgher family, he was naturally endowed with a love and understanding of mathematics. He also had the ability to impart this knowledge to his students. Many generations benefitted from this gift. It was his endowment to his homeland.
On October 13, 2012, a special ceremony was held at the Engineering Faculty in Peradeniya, where former Dean, Professor Emeritus M. P. Ranaweera – himself admired by many thousands of Peradeniya's engineering graduates – gave the keynote speech. The ceremony was to present the first round of awards – four studentships and four prizes – to engineering students, as an outcome of the endowment fund established in Professor Barthlomeusz's memory.
Professor Bartholomeusz's lectures were excellently compiled and presented, and he did his utmost to see that future engineers grasped the subject of mathematics, so essential to their profession. However, it is not this alone that won hearts among those who passed through Peradeniya, from 1950 to 1974, his period of service there. Some of us were in our final year at the Faculty of Engineering in 1974, when word of his imminent departure to Zambia filtered through. It sent a shockwave through the faculty and the student body.
A special felicitation was arranged in May 1974 at the Engineering Faculty Auditorium, where student representatives of each batch paid heartfelt tributes. It was clear that one man had made a difference to the lives of many.
He went to the University of Zambia as Professor and Head of the Department of Mathematics, where he served until 1990. Known there as "Professor Barth", he continued to make a difference to the many lives he encountered.
After his death, an obituary page was set up on the Internet, and an online guest book where a message of remembrance or condolence to Bartho's family could be written. There are 76 messages and they are a good cross-section, portraying an image of the man and capturing the essence of his well-lived life. As Professor Ranaweera explained in his speech, it was Bartho's human qualities that shone through, creating a bond between him and his students. He was a gentleman in the fullest sense of the word. Although he had been educated at St Joseph's College, Colombo, earned a doctorate from the University of Cambridge, and hailed from a family of means, he was aware that many undergraduates in Peradeniya came from poor families, and that they felt the stress of exams. This showed in the way he prepared his students for exams and acted in his interaction with them.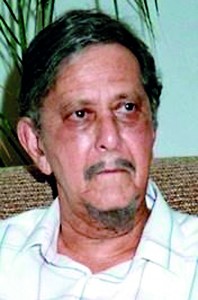 Messages in the online guestbook came from all parts of the world – from Colombo and Kandy to Calgary, Yokohama, Missouri, Sydney, Suva, Texas, Perth, Newport, Watford, Boston, Oxford, Johannesburg, and so on.
"Small" kind acts, such as giving a student a ride in his car, or his courtesy and kindness in dealing with students, are cited. His "bigger" deeds, as illustrated in his facilitating the setting up of the Engineering Faculty Canteen as a sales outlet for essential items like drawing instruments, slide rules, and stationery at affordable prices, were visionary. The messages also highlighted the Professor's human touch. The messages come from all ethnic groups – Burgher, Sinhalese, Malay, Tamil.
Professor Bartholomeusz spoke the Queen's English, yet communicated effectively with those who spoke very little English. His empathy with his students filled any gap that may have existed in their verbal exchanges.
Professor Bartholomeusz was compelled to leave the land of his birth with his wife Edith and three sons because of language policies that would have made it difficult for the family members' future prospects. Sons Brian, Geoffrey and Michael all obtained doctorates and have made their contributions to the wider world.
The professor owed no tribal allegiances, and we would do well to dwell on his contributions to Sri Lanka and the way he treated all people. If Bartho had been asked what race he belonged to, we can be certain his answer would have been "the human race." If university education is to mean more than gaining book knowledge, we must realisate the universality of all humankind.
We can keep the professor's spirit alive by contributing to the Endowment Fund set up in his name. The fund will in perpetuity benefit needy students at Peradeniya and keep alive excellence in the field of Engineering Mathematics. Then, like the flowers on the campus, Professor Everard Frederick Bartholomeusz's contribution at "the world's most beautiful university" will bloom anew each year through the endowments we make in our own small way.
Ranjan Abayasekara
Follow @timesonlinelk
comments powered by

Disqus