Unthinking use of antibiotics could result in medicine-resistance
By Kumudini Hettiarachchi
View(s):
It will be a different kind of germ warfare, warns a top health official, cautioning strongly against the irrational use of antibiotics in Sri Lanka which could lead to microbes developing resistance to medication.
If disease-causing microbes or germs are exposed to medication unnecessarily over a long period of time, there will be a tendency for them to develop resistance, stresses Cosmetics, Devices and Drugs Regulatory Authority (CDDRA) Director Dr. Hemantha Beneragama.
"Then it becomes a very serious issue and all because of unnecessary exposure to these powerful drugs," he said, pointing out that the problem gets compounded because it can spread across the world due to globalization and migration.
Microbes are extremely tiny living things, including bacteria, viruses and parasites, which can only be seen under a microscope. Some of them cause disease.
Usually, when a person is down with a disease such as the common coldor flu being spread by a virus, there is no medication as it has to be allowed to run its course. Strong antibiotics are prescribed only to ward off secondary bacterial infections which could follow a viral attack or to fight other infections, but irrational or misuse can make them develop resistance to available antibiotics, according to Dr. Beneragama.
Explaining that the National Antibiotic Policy is under revision, he pointed out that anti-microbial resistance is a major cause of concern across the globe, with its containment being discussed at length at international meetings including at last year's World Health Day.
Containment should come in the form of reducing anti-microbial resistance by minimizing unnecessary exposure to anti-microbial medications, it is learnt.
It's an urgent call, he reiterated, explaining that microbes are developing resistance at a rapid rate, but new antibiotics are not being manufactured at the same rate. Citing penicillin as an example, he said no new penicillin product had been manufactured in the last 15years.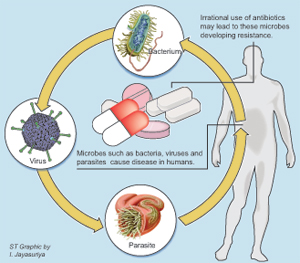 "For a new drug to come into the market it takes about 20 years, so there's a huge gap between the development of resistance and the production of antibiotics."There should be strict adherence to infection control methods at hospitals, including the implementation of precautions recognized universally, urged Dr. Beneragama.
Of the sectors which have a crucial role to play in this connection, the most important is the health sector, says the CDDRA Director, putting the onus on health staff to ensure that there is no unnecessary exposure due to irrational prescribing. "Doctors should not prescribe anti-microbials unnecessarily. Not only in private practice but also in the government sector, there should not be competition among doctors to give antibiotics."
It is best to prescribe antibiotics after the identification of the organism and to what antibiotic it is sensitive, after carrying out the antibiotic-sensitivity test. Then the right antibiotic can be prescribed, he said.
However, it is understood that with the heavy load of patients at Government hospitals, it is not practical or economical to perform this tests there.This is where the doctors should use their experience, says Dr. Beneragama, stressing that for the common cold or the viral flu there is no place for antibiotics. It is in certain cases including secondary infections or for those having diabetes or heart disease that anti-microbial medication is required.
He strongly advises people not to pressurize doctors to prescribe antibiotics. Many people think that a 'good doctor' is someone who gives a heap of tablets, but that is not so. Sometimes even if the doctor does not prescribe medication, the patient will insist that he do so. "Don't ask for medication unnecessarily."
Dealing with another instance where many people break open antibiotic capsules and sprinkle the powder on a wound they may have, he pointed out that this is another way that germs would develop resistance to medication.
If, however, a doctor does prescribe an antibiotic, keep to the medication regimen and quantity strictly, says Dr. Beneragama. If the drug has to be taken three times or two times a day it should be done as instructed. If the strength of the drug ordered is 500mg don't take a lesser dose of 250mg. Don't stop the medication half way because that would pave the way for the microbes to develop resistance.
Sometimes people say that the strength of the medication is not adequate but without making decisions on their own, they should seek advice from a doctor, while also checking the storage both at the pharmacy and their own homes, he says.
Another category of people who dish out antibiotics are pharmacists, the Sunday Times learns.
Promoted by pharmaceutical companies, many pharmacists dispense antibiotics over the counter though they are prescription-only medications, says Dr. Beneragama, while people too should learn to ask themselves, 'Do I need antibiotics'.
Pharmacists should be trained to guide the patients on how to take their medication if prescribed by the doctor, with the drugs also being stored right, in cool, dry areas. Pharmacies need to be air-conditioned because countries such as Sri Lanka fall into Zone 4 of the climatic zones and have hot and humid conditions along with high temperatures, he says. "This is why it is important to store medications at a temperature below 25°C in areas sans dust. This is also why we are insisting that pharmacies be air-conditioned, except in places like Nuwara Eliya."
It boils down to the question of ensuring efficacy, safety and quality. If not stored under the right conditions, some antibiotics develop toxicity while substandard drugs will also promote development of resistance by microbes, he said.
The CDDRA has already launched in-depth awareness programmes in eight districts on this important issue not only for doctors and pharmacists but also for the public.
Doctors are being advised on the rational use of medications with special emphasis on anti-microbial resistance; pharmacists on storage of medications and what guidance should be given to patients when they come in with prescriptions; and the public on the need to consult a doctor if there is an infection.
"We are also making people aware how to stop the spread of infection by taking simple steps such as not coughing in others' faces and washing hands often to stop bugs from spreading," he said.
Meanwhile, hospital staff is also being instructed on simple precautions such as wearing gloves and masks when attending to patients, while their minds are being refreshed on procedures that should be ensured in the disposal of clinical waste.
Dangers of antibiotic misuse
Ayurvedic and homeopathic medications pose a huge problem as some of these practitioners use antibiotics freely in their treatment, without proper knowledge of their effects and consequences, stressed Dr. Beneragama.
The dangers of antibiotic misuse also stem from the 40,000 quacks that the Health Ministry estimates are practising across the country, he said.
Another sector that should restrict the use of antibiotics is the livestock industry which injects chicken etc., with these potent drugs to keep them healthy, he said, adding that when people eat these products they get antibiotics indirectly into their system.
Generic drugs should be as good as branded ones
Generics of certain drugs being imported to Sri Lanka from January 1, next year (2013), will have to have bioequivalence data to show that they have the same composition as the original drugs, the CDDRA has decided, in the wake of charges that some generics are not as effective as branded products.
These drugs will include antibiotics, drugs prescribed for epilepsy, slow-release medications and drugs given to patients who have undergone kidney transplant operations, said Dr. Beneragama, pointing out that if drug efficacy is poor, there may result anti-microbial resistance.
Those manufacturing these drugs locally will have to submit bioequivalence data from 2014, it is learnt.
Follow @timesonlinelk
comments powered by

Disqus