Brick by brick, the houses came up
By Charundi Panagoda
Habitat Sri Lanka settles 24 homeless families in Negombo with the help of volunteers from across the globe

View(s):
It doesn't need to be big, it doesn't even need to be beautiful, as long as you have your own house to find comfort at the end of the day. Though most people take their homes for granted, for 40 percent of our population, owning a home is just a dream.
But 24 families in the Negombo suburb of Paththaeyamwatta are now the owners of a house they can call their own, with the help of the local affiliate of the international non-governmental organisation, Habitat for Humanity. About 150 foreign volunteers and 50 local volunteers worked morning to evening for five days, laying bricks for 'Rebuild Sri Lanka', Habitat Sri Lanka's first large-scale volunteer-build project.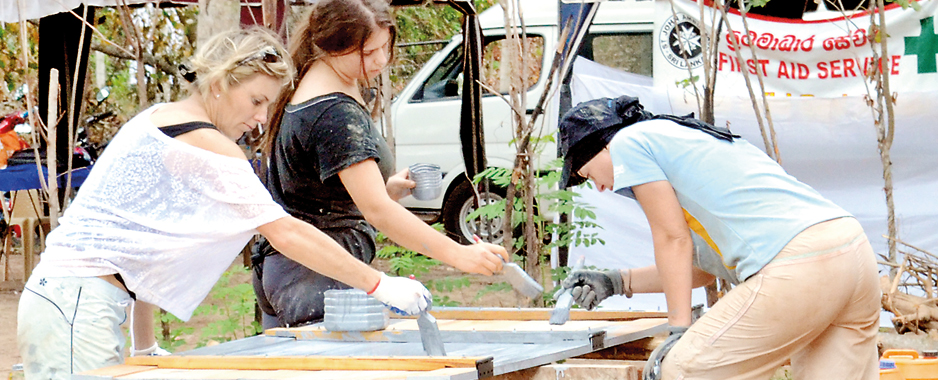 Habitat which calls itself a "Christian housing ministry", builds and "rehabilitates simple, decent houses" for low-income families through volunteer labour and donations. Habitat Sri Lanka has built 16,325 houses, says Habitat Resource Centre Coordinator and Western Region Supervisor Lakshman Perera.
"We build different houses for different needs," Mr. Perera said. "Sometimes we work with tsunami-affected people to rebuild houses, sometimes we help rebuild war-damaged houses."
The 'Rebuild Sri Lanka' project began about a year ago, when the families sought help from Habitat Sri Lanka. The 24 families without permanent houses called themselves a 'Committee of Landless People', said K.S. Greta Fernando, a member of the group.
Mrs. Fernando, who earns her living repacking fish, and her husband Morawaka Premasiri, a railroad worker, didn't have a house of their own for about 15 years. They lived in temporary houses and paid rent for makeshift shacks in the city. They shared their one-room shack with two other families, with curtains made of sarees for privacy.
When it rained, the roof leaked and sometimes the shack even flooded. Mrs. Fernando's son Yohan and other children suffered from respiratory illnesses as a result. The families didn't have a proper kitchen and had to use a neighbour's toilet.
"One of the biggest problems we had was we couldn't find a permanent school for our children's education," Mrs. Fernando said. "Even if we did have an address, we didn't own the house and didn't have the deeds to show for it, so our children from the fishing village were only accepted by small schools."
Mrs. Fernando, along with other families facing a similar predicament, first sought help from the government. "When we sought government assistance with land about seven or eight years ago, we were told there weren't any lands available in Negombo," Mrs. Fernando said.
The families then sought help from the Jana Avabodaya Kendara, a local non-governmental organisation that advocates landless people. Its CEO, Vincent Bulathsinhala said the group got funds from a French municipal council through a Sri Lankan living in France to build houses for local homeless families. After several attempts, the group managed to purchase a piece of land in Paththaeyamwatta in 2007 and Habitat Sri Lanka stepped in to construct the houses.
"We made a special exception for this project and even handled the legal matters of getting deeds and addresses that would have taken about six months and cost more money for the families to handle on their own," Mr. Perera said.
Habitat had to complete the houses on a five-day deadline. Each house had about seven volunteers plus the homeowners providing labour, and the builders would set targets for how many blocks in course should be laid per day.
"For this particular project we built what we call a 'core house'," Mr. Perera said. "It consists of a front verandah section, a dining section and the kitchen area and a full foundation is laid. There's a leak-proof roof, there are doors and windows that can be locked for the safety of these people's children and there's a permanent address."
Each house also has a 20-foot tube well, paid for by the homeowners themselves, and space for a home garden to improve food security. Each volunteer to the project decreases the cost of building from five to 10 percent. The volunteers for 'Rebuild Sri Lanka' came from faraway places such as the United States, Japan, Great Britain, Australia and New Zealand. The volunteers paid for their own airfare and accommodation and some even donated money to the project.
In addition to foreigners, local volunteers came from Odel and Millennium IT. Mrs. Fernando was ecstatic looking at her house. Never-theless, there's more work to be done, wiring the houses for electricity and building roads.
"One lacking thing right now is there is no bedroom," Mr. Perera said. "Once we settle the families, they'll have to build it themselves." Each house cost Habitat about Rs. 700,000 covered by monetary and material donations.
Though it's a great occasion to see these families finally settled down, still there are thousands more homeless people in need of help just in the Negombo area, Mr. Bulath-sinhala said.
Follow @timesonlinelk
comments powered by

Disqus