Running away with Akila Dananjaya
When the prevailing system is weak and perambulating aimlessly, Akila Dananjaya happens
View(s):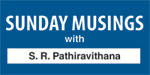 Mahamarakkala Kurukulasooriya Patabendige Akila Dananjaya Perera did not get into the main stream through the back door, but he happened to overtake the prevailing system which is living in a visionless illusion. Dananjaya owes his entry into the mainstream to none other than Sri Lankan captain Mahela Jayawardena, who saw through his raw inbuilt ability, and when put to the test at the SLPL the young lad impressed the doyen.
We welcome the fast tracking of this youngster. Yet, there are questions to be asked because we have seen it happening in Sri Lanka before with limited effects. So are we going to let that happen again or are we striving to mould the next Muralitharan of Sri Lanka cricket?
The Ajantha Mendis saga was a similar fairytale. While he was playing school cricket none of the so-called pundits spotted him and thought it fit to bring him to the mainstream, but a roving soldier learned about his talent, got him regimented and the rest is history.
Yet, we at this end feel that Sri Lanka cricket was the loser. The Mendis magic lasted till the cricketing world put him under the microscope and broke his action down into pieces. Still I feel Mendis is the same bowler that he was, but the batsmen in the global village have learnt to see through him.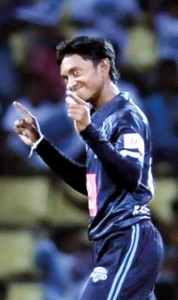 Now the charming cricket cum soldier does not bamboozle the opposition like he used to. He has to fight for his wickets.Throughout the history of Sri Lankan cricket such Cinderella-like characters have surfaced on more than one occasion. When the big one strikes they are put to the test and when the clock strikes twelve they have to take their boots and run.
Bowlers like Nalandian (the late) Roshan Gunaratne, a leg spinner, was thrown into the deep end against none other than the mighty Australians at Asgiriya in 1983 almost straight from school cricket. But sadly, the young lad did not have the proper preparations beforehand and he became history.
Then the Royal schoolboy Roshan Jurangpathy, a fine off spinning all-rounder, was thrust into the national side in 1985 when he was only 17. He played against the best players of spin on the globe, India, and after two Tests he ended up as an 'also played' even before he was 20. Once again the Lankan selectors jumped the gun with the Isipathana leg spinner Sanjeewa Weerasinghe. He was also only 17 when he was drafted to play against India also in 1985 and like Cinderella – Weerasinghe also had to leave his boots and run away after playing only one Test.
These incidents happened early on in Sri Lanka's days in the big league, when the country was still finding its feet and looking for the proper combinations. Thereafter we saw a string of spin bowlers — Don Anurasiri, Gamini Perera, Ruwan Kalpage and Piyal Wijetunga to name a few — who could bowl, but could not make an impact on the opposition or the game. This in-and-out drama continued till the arrival of Antonian schoolboy Muttiah Muralitharan.
Something that went for Muralitharan was that he was not rushed into the big league. Though he was very successful in the school arena, he was not rushed onto the big league. Initially he was played in the lower ranks of national cricket and he was taken into the Test side only when the then national skipper Arjuna Ranatunga was confident that he could take on the opposition on his own terms. Then, like old wine, Muralitharan grew in confidence with maturity.
A cricket veteran once explained to me some of the finer points of bowling. He said, "Most of the bowlers who make the grade are good and are talented. Yet, some shine more than the others. Two good examples are none other than Muralitharan in spin bowling and Chaminda Vaas in seam bowling.
"They matured together. Both had the killer instinct in them. They both knew how to size up a batsman, work through their skills and outmanoeuvre them. "That is the skill that any bowler needs. He should be able to take each batsman on his ability and out-think them on his ability."
The expert also cites Aravinda de Silva's bowling skills as another example worth emulating. "Aravinda was never in the side as a spinner and his role in the side was different. Yet, he was one of the most trusted bowlers in Arjuna's arsenal. Aravinda was never a brilliant off spinner, but he was very good at sizing up a batsman and tackling the batsman's skills within his own abilities, especially in the ODI version of it."
Well I understood what he really meant and I still am a firm believer in that theory.This whole narration took place because 18-year-old Akila Dananjaya Perera has been drafted into Sri Lanka's national T-20 squad, which will go into the ICC's championships later this month.
If Sri Lanka had a proper monitoring system, Dananjaya would have been in the map and would have been talked about before. But, now we learn that up to now Dananjaya has been eclipsed by Devananda Ratgama's off spinner P.H.T. Kaushal, who was one of the redeeming points of Sri Lanka's under 19 World Cup effort.
Now the question is whether Dananjaya is ready to take this treble promotion? Will he wilt under the pressure? Just consider Dananjaya's journey at the SLPL. In the first match he finished with 0 for 24 and in the second it grew to 2 for 18. In the next two matches he bowled himself into fame by bagging 2 for 15 and 3 for 18. He was in the national squad.
In the very next match, after becoming a selected one, he bowled his four overs for 37 runs with one wicket. Then in the semi-final he bowled three overs for 26 with one wicket. We at this end feel it may be too early to rush this future prospect who has all the variations in his arsenal. The only thing that he may need now is proper exposure. Could these two bowlers, Dhananjaya and Kaushal, be brought especially under the wing of Muralitharan and could he shepherd them to maturity so that they could take on the cricketing world on their own terms, like Murali himself did?
Follow @timesonlinelk
comments powered by

Disqus