Loan sharks on Kelani 'Palama'
View(s):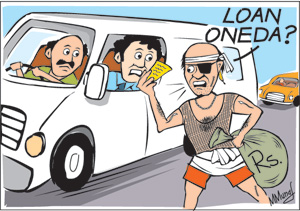 An unlicensed money lending syndicate, believed to be with powerful political backing, is now operating in Colombo and suburban areas using unconventional methods to lure borrowers who are in urgent need of cash.  These loan sharks spread their message of money lending for business and personal requirements without collateral through their agents deployed near traffic signals and bridges especially at the Peliyagoda bridge, several commuters told the SundayTimes
These 'agents' distribute leaflets containing two mobile phone numbers of a purported manager enabling clients to get more details, they revealed. The numbers are – 0712417604 or 0750351616 Posters on the offer appeared in other parts of Colombo too.
Drivers, vehicle owners and passengers of vehicles, (just as vehicles come to a halt over bridges entering and leaving the city of Colombo, especially near traffic signals) have been approached by these agents promoting and offering short term lending for business and personal needs without collateral, they said.  "Loan sharks are those who operate businesses and lend money to people without a licence," a Central Bank (CB) official said, adding that "we are yet to receive complaints about this 'new' scheme".
When contacted, the Peliyagoda Police said they have not received any complaint on the illicit money lending operation and noted that they would watch out for these loan sharks. The CB official said such loan sharks are liable to a fine of upto Rs 100,000 and a jail term of upto six months, or both.
A Sunday Times (ST) journalist posing off as a businessman called the number on the leaflet to ascertain details of the illegal money lending operation. During initial calls, the journalist was asked to call again after 9 pm. Here are excerpts of the telephone conversation:
ST: "Hello, mata me telephone number eka hambuna, hadissiyata nayak gannai katha karane (I got this phone number and I am calling you to get a loan as I am in a hurry)".
Loan shark (LS) (In a deep voice resembling a well-known politician): "Ha bohoma hondai, bohoma hondai. Api lasthi onewelavake uduau karranna. Monvada thama karana business (O' very good, very good …we are ever ready to help people like you. What is your business?)".
ST: "Mage printing press ekak thiyanawa .. eka tikak divunu karagandai salli tikak onay (I have a printing press, I need some money  to improve it to some extent)".
LS: "Ok…hari hari hari, api ready cash denava rupiyal laksha panaha wenakam gedaratama genath denawa…eka davasen. Apa karayo nehe, keeyakda onay? Onay ganak thamata dennam (Ok ok we  give ready cash up to Rs. 5 million and we bring money to your doorstep within a day…no surety. How much do you want)".
ST: "Mata laksha vissak vithra gaththoth aath, mama kohomada gevanna one (I need a sum of Rs. 2 million. How can I repay it?)".
LS: Apoy simple. Apita varaika valin gevvana onay, poliya bankuwalath adui. Karranna thiyanne ape kattiya gederata salli genath dunnama. Varika pahakata hari hayakata hari …dahayakata hari dina dapu chek denaeka vithrai (It is very simple.. what you have to do is to hand over five, six or 10 post-dated cheques as repayment installments to our people when they visit your house with the money requested by you)".
ST: "Bohoma isthuthi…oyage office eka koheda thiyenne…hadissiyakata kohomada hambavenne. Thava podi prashnayak thiyenawa…barivelawath kavuruhari salli nogeva hetiyoth mokada wenne (Thank you very much…by the way where is your office. Another small question, what will happen if someone defaults)".
LS (in a rough voice): "Eva apith ekka hariyanne ne. Api dannawa salli ganna heti. Apita office ekak nehe. Apita badu thiyenawa. Api thamage gederata avilla thamai okkoma ganudenu karranne (No one can do such things to us. We know how to handle those matters. We have no office. All transactions will be done at your house)".
ST: Mama thava tika davasakin katha karanam… bohoma isthuthi (Thank you very much I will call you in a couple of days)".
On further inquiry, the respondent over the phone said they have neither a registered place of business nor a registered business name and all transactions are completed at the residence of the borrower with full anonymity and without any declarations to tax or other governmental agencies.
The ST's investigations found that the offer of loans had a limit of up to Rs. 5 million, and were available for business purposes (excluding agriculture and poultry business) by merely handing over five or six  equal installment postdated cheques computed at the rate of Rs. 22,000 per cheque for every Rs. 100,000 worth of funds released, based on the assessed project viability and customer standing.
Follow @timesonlinelk
comments powered by

Disqus