Lankan-born Suresh dies in Afghan war
Fondly known as 'Ba', Suresh Krause of Sri Lankan origin is killed in action on August 16 while piloting a Sikorsky UH-60 Black Hawk helicopter in the Shah Wali Kot District of Kandahar Province, Afghanistan. Jayam Rutnam, a Staff Reporter for the San Gabriel Valley Examiner in California reports
View(s):
On Thursday, August 30, an American hero and patriot was laid to rest at Forest Lawn in Cathedral City, California. A Military Honours service was held immediately after the funeral at the Desert Memorial Park in Palm Springs.  It was a sad day indeed for all who knew "Ba" which is short for "Baby", as Suresh Krause was fondly referred to.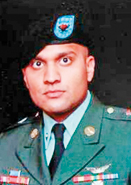 The United States Army Honour Guard service included full military honours, with a soldier playing taps on a bugle, an Honour Guard, a gun salute and the folding of the American Flag which draped the casket of United States Army Chief Warrant Officer Suresh Krause.  The funeral was attended by U.S. Army personnel and Desert City dignitaries.
Among the American friends and relatives present, were Sri Lankan expatriates who came from all over California to say farewell to one of their own. A 29-year-old man, who loved his adoptive parents as well as his biological parents; a young man who achieved much academically; who loved flying; who loved the United States of America; who loved the army and also loved the country of his birth, Sri Lanka.
Suresh Abayasekera was born in Sri Lanka in 1983 to Yolette and Daya Abayasekera and was given for adoption to his mother's sister at the age of 13. His adoptive parents are Suzie Krause-Schmidt and Brian Schmidt of Cathedral City, California (a community in the California desert near the better known, Palm Springs).
According to Suzie, Suresh loved chicken curry.After learning last week that a Black Hawk helicopter had gone down in Afghanistan, killing all aboard, Brian immediately attempted to contact his son. Suresh was in the eighth month of a year-long deployment to Afghanistan. It was his second tour. In the past, after a crash, casualty, or similar tragedy, it didn't take long for Suresh to let his dad and mom know he was safe. "He usually always found a way to email and say he was all right," Brian said last week.
But as the morning dragged into afternoon, Suresh's email never came. It wasn't until a neighbour telephoned Brian at work that he knew something horrible had happened to his son. "He said, 'You have a government vehicle in front of your home'," Brian said. When Brian asked if it looked like there were military personnel in the vehicle, the neighbour said yes. As Brian drove the 20 minutes it took to get home, he hoped his neighbour had been mistaken. When he arrived, a chaplain, accompanied by another army officer, greeted him.
"They brought me inside and told me what I already knew," Brian said. Suresh was killed in action on August 16 while piloting a Sikorsky UH-60 Black Hawk helicopter in the Shah Wali Kot District of Kandahar Province, Afghanistan. Suresh, along with three other soldiers, two Navy SEALs, a Navy explosive ordnance disposal technician, three Afghan security personnel and one Afghan interpreter, a total of 11, died in the crash.
The Taliban has taken credit for shooting down the Black Hawk, though U.S. officials said initial reports indicate it was not shot down. According to an Associated Press story on Monday, the crash, which is still under investigation, happened during a firefight with insurgents. It is considered one of this war's deadliest air disasters.  The helicopter crashed into the barren Kandahar mountains.
A local newspaper, The Desert Sun, quoted Brian as saying: "Suresh was born to fly and he was born to serve." While the Schmidts and the Abayasekeras mourn the death of their beloved son, they do realise that Suresh loved what he was doing, flying for his country, serving his country and now, making the ultimate sacrifice of dying for his country.
Government and private flags in the Riverside County which includes all the beautiful desert resort cities were ordered to be lowered to half-mast for one week in Suresh's honour.
Follow @timesonlinelk
comments powered by

Disqus