The necessary evil and the lesser evil
View(s):

My Dear Voter,

I thought I must write to you as I feel sorry for you because you have been asked to go to the polling booth once more if you happen to live in the North Central, Sabaragamuwa or Eastern provinces — even though you may not be really keen to elect another set of 'palaath sabha manthrees'.

I feel sorry for you because you must be finding it really hard to decide whom to vote for. I am sure this must be harder than even answering questions in the Grade 5 scholarship exam — because the latter are leaked beforehand!

I know that the Blues have asked you to vote for them. I am sure they will be telling you that the war against the Tigers was won because of them. There is peace now and if you are grateful for that, you should vote for the Blues, they will tell you — and I don't blame them for saying that either.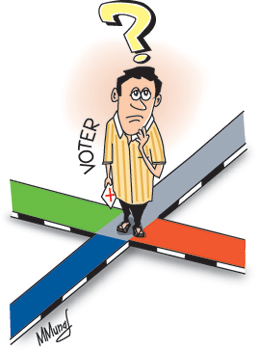 Of course, voting for the Blues comes at a price. They have been in power for fifteen of the last eighteen years and some of them behave as if they will be in power for ever. They may have won the war for us but the question now is, what else have they done?
They have achieved quite a bit, I daresay. Who else could have ruined the confidence we had in our examination system? Who else could have messed up the 'Z score' in such a manner? Who else imported contaminated fuel not once but thrice? There are achievements without parallel!
They have also done what the Greens before them did, although on a larger scale. They have closed all universities like the Greens did, they too have thrown stones at judges like the greens once did and they have even amended the Constitution like JR did ever so frequently when he was in power.
And a vote for the Blues will produce a younger generation of more Mervyn Silvas, Duminda Silvas, Rishard Bathiudeens and maybe even a few Sarana Gunawardenas. Without the news and entertainment that these gentlemen provide on a constant basis, how could we survive?
Now, if you ever considered voting for anyone other than Blues, you must have surely thought of voting for the Greens. The poor chaps haven't won an election for so long that I am certain they would not know what to do, even if there was miracle and they won!
But I have a suspicion that we will be provided with even more hilarious entertainment if the Greens win. The deputy leader will challenge the leader, there will be several inquiries to find out who said what and in the end, they will have a competition to throw stones at their own headquarters!
Besides, you will need to make sure who you are voting for. Yes, they will all be listed under the Greens and contesting under the elephant symbol but it is now really two parties, isn't it, the Green (R) party and the Green (S) party with the two groups even campaigning separately?
And if you find that confusing, you might even consider voting for the Reds. I know they have been in the forefront of all the protests and strikes, but their problems is that when the votes are counted it seems as if even all those people who attend their rallies and shout slogans don't vote for them!
Then, if you are in the East, you may find Rauff asking for your vote. I do admire his courage for going it alone this time, but he seems to be mastering the art of running with the hare and hunting with the hound by staying in the Cabinet and contesting against the Blues.
He says his party wants to have its own identity in the East but mark my word, they will be supporting the Blues even before you could say 'Assalamu alaikum'. After all, it is too difficult to give up the perks of a cabinet ministry so easily!
Now, if you are in the East, you might also find Sampanthan knocking on you door. That gentleman too needs to clean up his act and decide whether he wants to run to India every time someone sneezes or whether he would be better off trying to sort out his differences by talking to those over here.
Besides, Sampanthan is not shy of cosying up to all these Diaspora chaps who are hell bent on ruining this country's image. He didn't attend Karunanidhi's recent meeting in Chennai though and he deserves a pat on the back for that but he needs to be a bit more consistent.
So, even though you have all these options before you, dear voter, I don't envy you because no matter who you vote for, I don't think you would get a good deal. But then, elections are a necessary evil of a democracy, so vote you must, even though you may have to choose who the lesser evil is!
Yours truly,
Punchi Putha
PS: It is a pity that the new Elections Commissioner is not contesting. That man is trying to do a job of work, and if he was contesting, he would get my vote. But since he is not, you might have to either close your nose and vote for the Blues or close your eyes and vote for any of the others!
Follow @timesonlinelk
comments powered by

Disqus