This smiling assassin is a smooth operator
By S.R. Pathiravithana
Nuwan did not handle the hardball till he played first Xl cricket
View(s):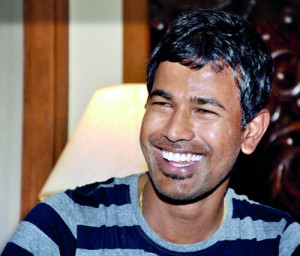 In every walk of life there are silent contributors who are always willing to shoulder their share of the burden and a little more, yet they hardly get noticed as they make little or no din about it. Kulasekara Mudiyanselage Dinesh Nuwan Kulasekara definitely falls into this category.
Always with a smile which I interpret as naturally genuine, Nuwan even operates in the middle with the gesture, but eyes say the story of his life – one of dedication and determination.
It was not long ago that Nuwan was the No. 1 in the ICC rankings in the ODI category. Yet, there was no difference in his smile. Then once he was categorised as a limited overs bowler. He took on the stride and performed. But, today he is Mahela Jayawardene's main strike bowler in all three forms of the game, but, the smile on Nuwan's face remains the same.Hailing from Nittambuwa and having his early education at the Nittambuwa Primary School and then moving on to Kirindiwela Central to do his Ordinary Level Examination, Nuwan did not have a slightest clue of becoming a cricketer. It was only when he joined Bandaranaike Maha Vidyalaya in Gampaha to do his Advanced Level that Nuwan had his first experience in hardball cricket, yet he did not have any notions of a cricketing future.
Nuwan explained: "Till I joined Bandaranaike MV I did not play hardball cricket, but, while I was playing for my school, I got the opportunity of playing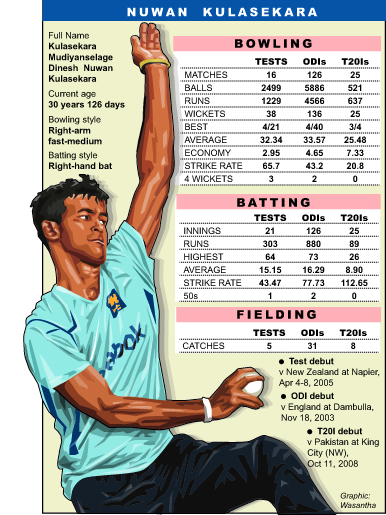 for Nugegoda Sports Club in the lower division. Still I never had the slightest notion that I will one day be picked to play for my country. Yet, it was while playing for Nugegoda SC that I took a great liking for the game and at the same time I had a feeling that if I really played the game with dedication, I might be able to obtain gainful employment.
"I represented Nugegoda SC in the Under 23 category. At that particular time I was selected for the fast bowling academy. While I was in the fast bowling academy one-day Champaka Ramanayake, the National fast bowling coach asked me if I was interested in playing for Galle CC in the top division. I think that was the door that I was waiting for. In the very first year while turning out for Galle CC, I became the best bowler in the first class tournament. This performance took me up to the Max Academy and then things began to move on its own. It was way back in 2003, when I got my first international break. I was directly picked to represent Sri Lanka against England. At that time I even had not played in the 'A' team."
It was November 18, 2003 – a One Day International against England at the Dambulla Stadium. England led by Michael Vaughn were all out for 88. Nuwan bowled nine overs for 19 runs while capturing the wickets of middle order batsmen Ian Blackwell and Rikki Clarke.
At that moment, the Sunday Times tried to stump him by asking whether he had fears of being a slightly built man trying to bowl fast in the highly competitive international arena. Nuwan calmly replied "I know my strengths and limitations, reading the batsman and swinging the ball is my forte. I do not think the speed matters if you can control your swing and deliver accordingly. Even in my very first international I had the confidence that I can live up to the challenges that were thrown at me".
When asked what sort of wickets that he prefers to operate on, Nuwan replied at once saying, "As a fast bowler I prefer to bowl on grassy fast tracks. However, I must stress that when you are operating on our own tracks, they are slow, but when you travel to South Africa or Australia the wickets are bouncy and fast. But, I adjust according to the given conditions and operate with my swing bowling. However, the wickets that I feel most comfortable are the tracks in Australia and New Zealand. In New Zealand even the general conditions favour swing bowling of my type."
The next question that we posed to him was his allround abilities. We pointed out that he has played some good innings with the bat. But, does he consider himself of churning out to be a genuine allrounder? Nuwan's reply was, "While playing for Nugegoda SC my batting also was up to a good standard. Yes, I could bat. But, once I got into the national team my role was strictly to operate as a bowler. So for some time I had neglected my batting. But, now anyone's batting and fielding count a lot when it comes to international cricket; so I have started to take my batting seriously.
"I remember my first half century at Lord's. We were losing that game I went into bat about half an hour before lunch. If we were to draw that game we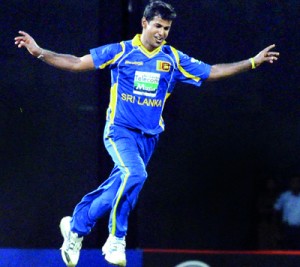 had to bat till the end. Wickets had fallen; Vaas was at the other end. We spoke to each other and said we will stay as long as we could. I kept batting and I got 64 out while Vaas went in at the end of the day 50 not out and we had saved the first Test in 2006. That was the first occasion that I proved that I can also handle the bat well at international level."
Nuwan counts batsmen in the calibre of Virendra Sehwag and Sachin Tendulkar of India, Jacques Kallis of South Africa, Rickey Pointing of Australia as the hardest customers to handle. "You cannot afford to make a mistake with them. Anyway all batsmen in that stage of the game are good. Some watch you and play and some keep coming to you aggressively. It is up to us, not to get unruffled and keep going with our business."
Nuwan stresses that if you are to succeed you have to train. "You have to keep in mind what is required from you and always concentrate on the areas that you have to bowl even while at training. Now through my training I have a good control over the ball and I can swing both-ways at will and that is my biggest weapon".
Finally, we asked about his private life. He said he built his house at Kiribathgoda, moving from Nittambuwa as his training schedules are so intense. He is happy with his wife Dinusha Sanjeewani and has two sons – Senuka and Kenul. But, what he does not know is if his children would take up their father's vocation.
Yet, when we shook hands and wished him well for the future. His original smile had not changed one wee bit.
Follow @timesonlinelk
comments powered by

Disqus