Look out for these lads from Campbell Place
By Naushad Amit
View(s):
If one may consider as to why Nalanda College Colombo, which happens to be one of the leading cricket playing schools in
the country, have not been in the limelight lately, it is possibly because they like to lie low before making a big impact.
They may have not sighted huge or impressive wins lately, but Nalanda's attempt in preserving the quality of cricket they play still remains the same. This so far has proved to be much helpful in maintaining Nalanda's standards among other leading cricket playing schools.
Last season, they played 17 games including the annual big match against traditional rivals Ananda College, yet managed to win only two games. In the meantime Nalanda lost the services of one of their top contributors Nikila Weerasinghe, due to an injury. Eight months have passed since then but Weerasinghe is yet to fully recover from the leg injury he sustained. However he is tipped to return to action in the first term and has been appointed as deputy to skipper Lahiru Jayakody who is one of the seven seniors in the side.
The side is coached by Tharanga Dhammika who is serving for the second consecutive season. According to Dhammika Nalanda has a good side, equipped with top batsmen and bowlers who can still can carry on for a season or two apart from the skipper and the deputy. Many of these players apparently are performing allrounders who are equally talented and apart from the wicketkeeper all can bat and bowl.
Among the top performers with the bat is skipper Jayakody who finished last season scoring over 900 runs. Despite
that fact, Nalanda has a strong batting line up with wicketkeeper/ batsman Senura Amarasinghe and Woshantha Silva coming in as openers. They are in search of a suitable batsman to fill the all-important number three slot and that place is tipped to be fitting for Under-15 player Malinga Amarasinghe. According to Dhammika, Nalanda it has been ages since the first XI side gave room for an Under-15 player and Amarasinghe takes the honour in being the first to enter the top team in years. Next in the line-up is skipper Jayakody, followed by Pramudh Hettiwatte, Lahiru Wijeratne, Rashmika Wijayanga and Malinga de Silva. The remaining places are subject to change.
Their bowling attack is focused around leg-spinner Hettiwatte and fast bowler Kusal Dias who has been a constant contributor for the past couple of seasons. With many of their leading bowlers being top or middle order batsmen, Nalanda is surely tipped to make an impact during the season with a list of 18 matches on the cards. Among those who can be prospective performers are Hettiwatte, Avishka de Silva, Amarasinghe and deputy skipper Weerasinghe who expects to make a strong comeback. Nalanda also has high hopes on skipper Jayakody and Dias to reach the Sri Lanka Under-19 side.
However according to Dhammika the number of matches they are tipped to play during the season may still come down to 16 with many of the third term matches being affected by rain. Despite the number of matches being cut down, Dhammika is certain that Nalanda can make a huge impact during the season. The coach's aim is to register many wins as possible so that it will help the team come out as stronger contenders next season with many of these players still in the team.
Nalanda College Cricket Squad – 2013Lahiru Jayakody (Capt) Right hand –
Nikila Weerasinghe (V. Capt) Right hand Right-arm leg-spin
Kushal Dias Right hand Right-arm fast
Woshantha Silva Right hand Right-arm off-spin
Pramudh Hettiwatte Left hand Left-arm leg-spin
Senura Amarasinghe Right hand Wicketkeeper
Lahiru Wijeratne Right hand Right-arm fast
Avishka de Silva Right hand Right-arm off-spin
Malinga de Silva Right hand Right-arm off-spin
Eranga Soysa Right hand –
Malinga Amarasinghe Left hand Right-arm fast
Anutthara Madawa Right hand Right-arm fast
Ravin Dissanayaka Right hand Wicketkeeper
Rashmika Wijeyanga Left hand Right-arm off-spin
Ruchitha Perera Right hand –
Isuru Samarasinghe Left hand Wicketkeeper
Malik Peiris Right hand Right-arm fast
Gawesha Fernando Right hand Right-arm fast
Officials: Tharanga Dhammika (Coach), Lalith Ekanayake (MIC)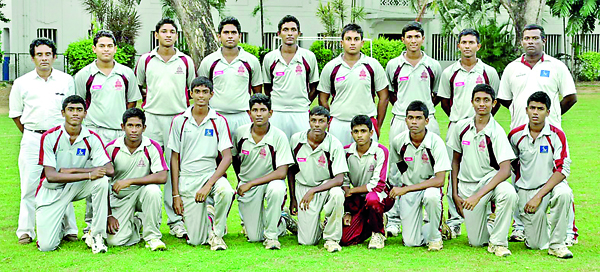 Follow @timesonlinelk
comments powered by

Disqus