Greig the mid-field fighter will keep on fighting
By Brian Murgatroyd
View(s):
July 8, 1977. I had to look up the date but, having done so, the memories just came flooding back.
It was a Friday and on that day, as a nine year-old boy, I watched something on television that's not only stayed with me ever since but has also helped to shape the rest of my life.
It was a cover-drive by England all-rounder and former captain Tony Greig, playing in a Test match against Australia at Old Trafford. It was a shot
much-employed by Greig throughout his career and his method was always the same.
From his upright stance, as soon as he saw a ball pitched up, he would thrust his left leg down the pitch and, with perhaps more bottom hand than the purists would like, threw his whole weight at the approaching ball.
On the occasion that still lives in my mind's-eye now, he made perfect contact with the delivery from Max Walker and it flew to the cover boundary like a rocket. Even now I remember my reaction.
"Wow!" I said out loud. And it was at that moment, whether consciously or not, I said to myself: "Cricket? That will do for me."
Of course, as a youngster, I had other cricketing heroes. There was Derek Randall, fresh from his brilliant 174, complete with hook shots against the mighty Dennis Lillee, and Ian Botham who, within a year, would take over Greig's mantle as England's premier all-rounder.
But that day back in July 1977 still burns bright in my mind, as if it was yesterday.
In the 35 years that have gone since that day, I have followed the game religiously and for the past 22 of those years I have made my living from it, now as a journalist and a broadcaster but also, for a decade, as an administrator.
As for Greig, he has made his living covering the game too, having done so for more than 30 years since retiring as a player, a retirement hastened by the fall-out from World Series Cricket, a project he backed from the outset and which has helped shape the modern game we love today.
That was a battle in itself, as Kerry Packer fought and won against the game's then-conservative establishment, a fight based initially on the issue of television rights in Australia.
Greig was by Packer's side throughout a lengthy court case played out in London and it was an association that cost him the England captaincy, but Greig's behaviour in taking on the powers-that-be could never be considered a surprise given he has never been one to shy away from a contest.
And now he faces the biggest contest of all, a battle to overcome lung cancer.
As a player, the willingness to battle, to stand toe-to-toe with the opposition, typified the man. He always seemed to bristle, invariably chewing gum, with his collar upturned. When he batted, there was no crouching in his stance; instead he stood upright with bat raised – a legacy of his enormous six-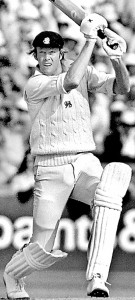 feet, six-inch frame that meant crouching was actually a significant discomfort.
His demeanour and his mannerisms made him the archetypical Lillee and Jeff Thomson in their prime or through his now-infamous remark about making the West Indies grovel ahead of their 1976 series.
That comment – coming from a white South African-born player about a team of black men in an era of Apartheid – could not have been more ill-judged but despite it making him public enemy number one in the eyes of Clive Lloyd's massed ranks of pace bowlers, his response was typical, with a belligerent double of 116 and 76 not out in a rollercoaster Leeds Test.
And then, when his side had been battered into submission at The Oval in the following match, which featured 14 wickets for Michael Holding and 291 for Vivian Richards, he had the humility and the humour to grovel himself, crawling back to the pavilion on his hands and knees in mock surrender.
Humour certainly played its part in Greig's on-field persona, despite his reputation as a no-holds-barred competitor. Patrick Eagar's photograph from England's 1976/77 tour of India illustrates that point with the big man playing dead, lying flat on his back in front of 100,000 fans at Calcutta's Eden Gardens, his reaction to a firecracker going off just as the bowler reached delivery stride.
Once the joke was over though, Greig picked himself up to score his eighth and final Test hundred, a captain's innings of 103 despite running a high temperature, and one which played a crucial part in helping to secure his side's series-winning 3-1 success against an India side with spinners Bishan Singh Bedi, Bhagwath Chandrasekhar and Erapalli Prasanna in their prime.
And for anyone who doubts, cannot remember or simply does not know how good a player Greig was, one look at his figures should be enough to answer that question. In 58 Tests – and he never missed one from his first to his last, over six years – he scored 3599 runs at 40.43 including those eight hundreds, and took 141 wickets at 32.20 each.
He could bowl seam-up medium-pace, off-spin or off-cutters, and it was in the latter style that he took 13 wickets in a Test against a West Indies side including Garry Sobers in 1974. And he managed 87 catches too, mostly as a brilliant slip-fielder – his one-handed, diving effort to remove Rodney Marsh in the summer of 1977 was, for a long time, part of the BBC's opening sequence for it's coverage – or a fearless close-in fielder in the days before shin guards and helmets. His figures as an international all-rounder really do stack up alongside the very best.
Greig has been part of the fabric of Australia's summer game and of cricket around the world for longer than most of us care to mention but 2012 marks 40 years since his Test debut.
He has never been everyone's cup of tea – just ask those establishment figures of the 1970s, many of whom never forgave him for what they felt was his initially secretive siding with Packer ahead of the England captaincy, a part of what they saw as rampant commercialism and opportunism.
Indeed, it is impossible to reflect on Greig's achievements without recognising the controversies – not just the Packer issue, or that grovel remark, but also his running out of West Indies' batsman Alvin Kallicharran in Port-of-Spain in 1974, after the final ball of the day had been bowled, although Kallicharran was later reinstated when the England captain Mike Denness and team manager Donald Carr agreed the appeal should be withdrawn.
Tony has always loved a battle. Let's hope this latest one is another he will win. www.PakPassion
Follow @timesonlinelk
comments powered by

Disqus