Craving to regain winning ways
- Pix by Amila Gamage
View(s):
Thurstan College Colombo has been going through a lot of changes in recent times but this season their main focus is to come back to the usual terms. With a third consecutive changeover in three seasons to their coaching department, Thurstan is surely to try their luck this season under Sajeewa de Silva. According to de Silva, the only hurdle the team may have to overcome is getting together as a unit. Over the past four months things are in their favour.
After a couple of continuous seasons sans impressive performances, Thurstan are going through a period of a win-drought. But their capabilities cannot be undermined by the present position which is tricky for a top school cricket side in Sri Lanka.
Despite going through a period of resurrection, Thurstan is a side that has produced some sterling performers in domestic cricket.
The Thurstan squad which trains under the watchful eyes of de Silva and his assistant Suneth Gunathilleke has a strong set of 30 players in it. The side has six seniors in skipper Ramindu Kumarasinghe, his deputy Rajitha Perera, Sahan Hewawasam, Avishka Peiris, Minhaj Jaleel and Kavindu Kulasekara. After working closely for four months with the team coach de Silva assesses them as a well balanced unit which is easy to handle.
By this time of the season they have tuned themselves to a well-knit team but the coach is of the opinion that it could further develop as time progresses. To bring things back on track Thurstan has a strong batting line up.
Tharindu Silva and experienced Minhaj Jaleel are the openers while the side is still in the hunt for a suitable number three batsman. For the moment the place is being filled by Kavindu Kulasekara as skipper Kumarasinghe, Avishka Peiris, Sahan Hewawasam and Rajitha Perera make up the line up. Suitable contenders for the remaining places are being tested and to make things positive all-rounders are pitted to take these places.
The bowling department is spearheaded by deputy skipper Perera who bowls leg-spin. The side is dominated by spinners with two off-spinners and two part timers playing leading roles. In addition they possess an average yet effective pace attack which consists four fast bowlers.
Last season Thurstan was an average side after 15 games but this season they are determined to do better in the 18 games on the cards. The coach hopes to achieve at least seven wins though winning has been a luxury for these lads since of late.
- NA
Thurstan College Cricket Squad – 2013
Kamindu Kumarasinghe (Capt) Left hand Right-arm off-spin
Rajitha Perera (V. Capt) Left hand Left-arm leg-spin
Kavindu Kulasekara Right hand Right-arm off-spin
Minhaj Jaleel Right hand Right-arm off-spin
Avishka Peiris Right hand Right-arm off-spin
Sahan Hewawitharana Right hand Wicketkeeper
Tharindu Silva Left hand Right-arm medium pace
Charana Nanayakkara Right hand Right-arm medium pace
Achintha Kalpone Left hand Left-arm fast
Pamod Gunawardana Right hand Right-arm medium pace
Chinthaka Udaya Right hand Right-arm leg-spin
Udara Malwarage Right hand Wicketkeeper
Raveesha Lokuge Right hand Left-arm medium pace
Senal Wijesinghe Left hand Left-arm leg-spin
Sajith Gunathilaka Right hand Right-arm leg-spin
Thimira Jayasinghe Right hand Right-arm leg-spin
Arjuna Radawa Right hand Right-arm medium pace
Sahan Dasanayake Left hand –
Kisal Ranatunga Left hand –
Officials:
Sajeewa de Silva (Coach)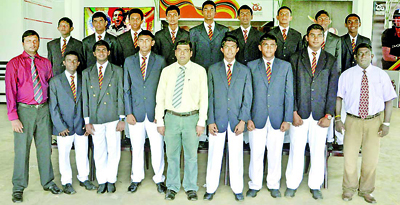 Follow @timesonlinelk
comments powered by

Disqus