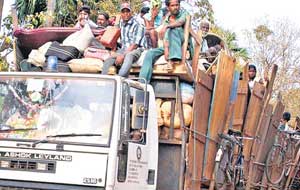 The newly displaced people in the LTTE-controlled areas moving towards Kilinochchi town yesterday
Free-for-all at Saturday's poll
Major General (Ret.) Janaka Perera was attending to operational details at his base command at Anuradhapura directing his green shirted party workers on the day's programme when he received a call from a friend asking him how he was faring.
IAEA
ISI playing a dangerous game with Taliban

Not many have doubts about the 'sovereignty' of Inter Services Intelligence (ISI). President General Parvez Musharraf did not have to underline it through his remark that it should not be destabilized.
Date with soul sounds

A lot of people find it difficult to believe just how good Soul Sounds is – after all they started out as a school choir,
Emergency exit for 200,000 refugees

As the war reaches the crucial point, the government has decided that in future no amnesty will be offered to any security forces deserters and warned some 12,000 deserters that they will be arrested and court-martialled if they do not return.

The Assets Unit of the Commission to Investigate Allegations of Bribery or Corruption came under fire by one of its commissioners who said that there were more than 400 cases pending in the unit with no indictments being served.

EDITORIAL

The PC sham

These days, politicians of all hues are burning expensive petrol and subsidised petrol, some even aviation fuel, criss-crossing the Sabaragamuwa and North Central Provinces, while their supporters burn posters and cut-outs of their opponents as they compete for places in those local level legislative councils.

PLUS

This will surely bowl you over
What do Indians love more – their Bollywood movies or their cricket? It's a tough call to make, not least because both things have been known to rouse the subcontinent to the point of mass hysteria.

FINANCIAL TIMES

Lankan cricket may run into stormy seas

It seems that Sri Lankan cricket administration is in for turbulent times. According to a cricket insider, recent comments made by the SLC Interim Committee Chairman Arjuna Ranatunga seem to have angered the Indian Cricket authorities.

Minister Senadhilankara

Minister Senadhilankara belonged to the Menavara family. It is during the time of King Devanampiyatissa that the people belonging to this clan, have come to Lanka.