As three high-level probes into the blood scandal at the National Blood Centre (NBC) at Narahenpita accelerated their investigations, the saga took a different twist last week.
This came when top Health Ministry officials accompanied UNP parliamentarian Jayalath Jayawardena to the Centre, on his request, and found 44 expired apheresis kits, allegedly damaged, in two rooms close to its director's office.
"On Monday, August 11, the Director-General of Health Services, Dr. Ajith Mendis and other officials were with me when we broke open the seals of a room, S-19, close to NBC Director Dr. R.M. Bindusara's office and found 10 expired kits, broken cartons and 11 more damaged kits in black garbage bags," Dr. Jayawardena told The Sunday Times. (See box for how expired stocks should be dealt with).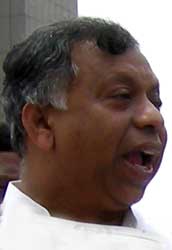 Dr.Jayalath Jayawardena
This newspaper in its own investigation on the blood crisis, in the issue of August 3 headlined, 'Whose hands have blood on them?' spoke of serious allegations against the NBC that expired apheresis kits were used on trusting donors and also critically-ill patients. The Government Medical Officers' Association (GMOA), reacting swiftly to our report, urged the Health Ministry to hold a transparent, impartial and urgent inquiry.
During the August 11 probe, in another "electrical room" also close to the Director's office, Dr. Jayawardena said he had found another 23 broken but expired kits in three more black polythene garbage bags. "We were there from 10 a.m. to 6 p.m. The Director had no explanation on these findings," Dr. Jayawardena said, questioning in general whether anyone has "earned commissions from human blood".
The 44 kits alone are worth around Rs. 1.1 million, as each kit costs about Rs. 26,000. The MP's intervention followed a phone call he received the previous day (last Sunday) that there were expired apheresis kits in Room S-19 at the NBC and some people were attempting to destroy them.
"When I went there, as an MP who was concerned about public issues, Room S-19 was locked but as the door was half-glass I saw cardboard boxes. The floor was wet and there were footprints. When I showed these to the three doctors on duty, they attempted to contact the Director but failed and on their own they decided to seal it to protect the good name of the doctors working there," he said.
While urging the Health Ministry and the Commission to Investigate Allegations of Bribery or Corruption to hold impartial and urgent inquiries, Dr. Jayawardena has also briefed the Sri Lanka Medical Council (SLMC) and hopes to bring the issue to the notice of the Organization of Professional Associations and the Sri Lanka Medical Association. He is due to submit a written complaint and an affidavit to the SLMC this week.
The Sunday Times, in the light of allegations of a cover-up by the Health Ministry, urged President Mahinda Rajapaksa to set up a Commission of Inquiry to investigate and ascertain whether the NBC did or did not use expired kits.
Supplier says don't blame us
This crisis has nothing to do with the company providing the apheresis kits, assured the agent who has been supplying them from the American-based company since 2002, stressing that it is up to the authorities to go by the expiry date clearly marked not only on the kits but also noted in the documentation. He declined to be named.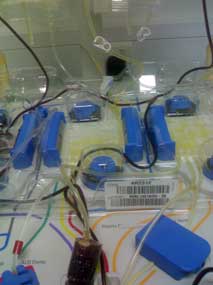 The controversial apheresis kit
"We provide the stock requirements, after an open-bidding scheme, to the State Pharmaceuticals Corporation," said the agent explaining that these machine-specific apheresis kits are used for the "closed system".
Denying that the kits were being produced in India, he said that manufacture was in the United States under its Food and Drug Authority guidelines. "The US Company has an administrative office in India and a financial office in Singapore," he said.
When asked why these kits have only a year's (12-month) shelf life, he said this is because the company assures sterility, stability and safety for both the donor who gives platelets and the critically-ill patient whose plasma is withdrawn. In the "closed system" platelets can be kept for seven days, he assured, while in the "open system" they can be kept only for 24 hours.
Whether in recent times kits with a shelf-life of 10 months was brought to Sri Lanka, he said the shelf-life is 12 months but sometimes by the time the kits are brought here, "it takes about a month for stocks to arrive", the expiry date would be closer.
However, he stressed that it would be up to the authorities to follow the expiry date. According to the agent the company had provided five apheresis machines free of charge to Sri Lanka each costing about Rs. 6 million in 2002. Later the country had bought three more. "We are providing service maintenance free of charge and also the spare-parts, since then. This is a major cost to the company," he said.
With regard to specific supplies, he says, on average the country orders about 1,000 kits per year but he remembers a "heavy order" in 2006 which he believes was due to a dengue outbreak. "An order was placed last month," he said, but when asked for numbers he added that he didn't have the relevant papers with him at the time The Sunday Times asked him.
The kits are imported from two American-based companies, but the controversy over expired kits has erupted with regard to the imports from one company. These kits are utilized along with hi-tech machines to harvest only platelets, as opposed to 'whole blood' donation from donors. The platelets, thus harvested from donors, are matched and infused to very ill men, women and children suffering from diseases including cancer, dengue and heart problems.
In another function, these sterile kits are also used as "therapeutic plasma exchange" kits to withdraw diseased plasma from very critical patients such as those with Guillain Barre Syndrome etc in the Medical Intensive Care Units and the Neuro-Intensive Care Units of the major hospitals, after which fresh plasma is introduced to their circulatory system.
Investigations making headway
The Investigation and Flying Squad Unit of the Health Ministry will submit its report on the National Blood Centre crisis this week. "As this is an urgent matter which needs to be sorted out we are hoping to give the report this week," a Health Ministry source told The Sunday Times.
The Commission to Investigate Allegations of Bribery or Corruption, meanwhile, has recorded the statements of 12 persons and taken into their possession certain documents, according to officials there.
The Auditor-General's Department which found 113 expired apheresis kits (valued at around Rs. 2.9 million) at stores in the National Hospital, Colombo, are also continuing its "audit" independently, while the Health Ministry audit section is conducting an "internal" audit".
The Auditor-General's Department is awaiting a report from the Health Ministry, with regard to its initial findings of 113 expired kits.
Dealing with expired stocks
Whenever any state hospital or state health organization has expired stocks, there is a strict procedure that must be followed, The Sunday Times learns. Individual (state) organizations on their own cannot destroy expired stocks, a Health Ministry source said.
They have to inform the Stock Verification Unit of the ministry, which in turn will get the institution to fill this unit's Form 47 with all relevant details after which an inquiry will be held to check the reason for the stocks getting expired without being used before the expiry date, it is understood.
The issues that will be checked are whether any official or officials knowingly ordered excess stocks due to 'corruption', whether it was a genuine mistake or whether there was any other reason for such stocks going waste. If a misdeed is detected, then action would be initiated against those involved. "It is only after such verification that a Condemning Board will decide how to destroy the stocks depending on what they are," the source explained.
On no account can an individual organization take action on its own to eliminate, hide or destroy stocks, the source added.