SRINAGAR, Saturday (AFP) - Tens of thousands of people shouting freedom slogans massed today in revolt-hit Indian Kashmir to mourn 22 protesters killed in police firing during huge demonstrations in the mainly Muslim region.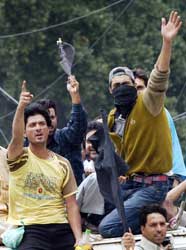 Kashmiri Muslims carry Islamic and black flags during a march towards the home town of slain separatist leader Sheikh Abdul Aziz, in Srinagar yesterday. AFP
Mourners in cars, buses, jeeps and trucks streamed to Pampore town, just outside the main city Srinagar, to take part in the outpouring of grief and anger and shout, "We want freedom," Indians go home" and "Kashmir is ours".
"This is a day we want to protest the slaying of 22 innocent Kashmiris," Mohammed Latief, 32-year-old truck driver, said as the town's centre was thronged by a sea of people.
Longtime separatist leader Mirwaiz Umar Farooq, the region's chief Muslim cleric, was carried to the rally podium on the shoulders of supporters. "These demonstrations should open the eyes of Indians. Every soul wants freedom," said Farooq ahead of leading the crowd in prayers for the shooting victims.
Police said they would not disrupt the event where many of the demonstrators hoisted black flags, a Muslim symbol of mourning, and green and black Islamic flags. "Authorities have said no force should be used against peaceful demonstrations," said police chief Kuldeep Khuda as security forces remained at a distance to avoid provoking further deadly clashes.
Street battles earlier this week left at least 22 dead in police firing and hundreds injured. Police have promised to investigate every shooting death.
Srinagar and other parts of the Muslim-dominated Kashmir valley have been rocked by some of the biggest protests since an insurgency against New Delhi's rule erupted in 1989.