University of Colombo emerge winners of Sri Lankan – CIMA Global Business Challenge 2013
View(s):

The students of the Faculty of Management and Finance, University of Colombo, emerged winners in CIMA GLOBAL BUSINESS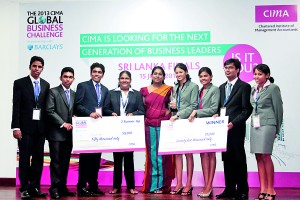 CHALLENGE – 2013, Sri Lanka final round. CIMA Global Business Challenge is an international business competition designed to bring out the best in young business leaders of tomorrow. This is a remarkable achievement due to the shear competition that the students have to face both in the first round with72 teams from 13 local universities and the final round of equally poised four teams including the other team of University of Colombo which emerged the second runners up. The final round of Sri Lankan competition was held on the 15th of June, 2013 at the CIMA Colombo Division.
"Strategic Solutions", the winning team from the University of Colombo, was led by AmaranthiCasseer from Department of Finance, reading for Bachelor of Business Administration (BBA) specialized degree in Finance. The other members of the team were Nipuni Abeysiriwardane and Sachintha Fernando from the Department of Business Economics, both reading for BBA specialized degree in Business Economics and ChaturaGunasekera from the Department of Marketing, reading for BBA specialized degree in Marketing. The team Strategic Solutions also won the award for the best report submitted.
"Synergy", the team who emerged the 2nd runners up was from the Department of Finance and wascomprised of IshanthiWijethunga (team leader), ChamindaAbeysekara,SandunLiyanwila andYasasWijethunga.Both teams were mentored by faculty advisor Ms. Ganga Kumuduni Fernando under the guidance of Prof. H.D Karunaratne, the Dean of the Faculty of Management and Finance. This is the second time a team of University of Colombo emerged Sri Lankan winners by trotting along the path of success from 2011.
The 1strunner up was Team "Aurora" of the University of Moratuwa.This team consist of the team leader PasanPethiyagode from the Dept of Electrical Engineering, and team membersAkalankaSamarasena from the Dept of Transport and Logistics Management, HasiniAbeywickrama from the Deptof Computer Science and Engineering and SirimevanJayasundera from the Dept of Electronics and Telecommunication.
The winners are qualified to participate in CIMA Global finals,which is to be held in Johannesburg, South Africa later this year with the participation of twenty four regions around the world including China, Australia, Russia and UK, among others.
Follow @timesonlinelk
comments powered by

Disqus