The Monash University Foundation Year gives you a head start after your O/Levels
View(s):

If you are a parent with a child who recently completed Local O/Level examinations and you want your child to complete his/her Higher Education, you now have to determine the best choice in terms of a pathway for your child to enter university.

While A/levels are a more familiar option, as parents you need to decide whether two more years of secondary school actually gives your child the best preparation for university. A/Levels exist in few forms, but they all produce the same type of student – one who completely depends on just one exam after two or more years, to determine their future. You also need to question whether or not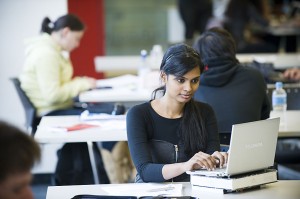 A/Levels prepares your child to succeed in university or just simply enter it. At the same time parents have to consider the time it takes to complete preparations for the A/Level examination and the time for results to be released. Actually a student after O/Levels has to wait for about 2 months to receive O/Level results and then follow 2 years of study for A/Levels and then wait 3 months for A/Level results and another 6 months to enter the university. This process all together takes more than 3 years. Instead of waiting for almost 3 ½ years, through this process, one can start a better pathway to enter university and actually be in a university environment just after O/Levels.
ANC Education has been in the forefront of Sri Lanka's private education sector by offering Sri Lankan students a world-class equivalent for A/Levels – the Monash University Foundation Year (MUFY). MUFY is designed and endorsed by Monash University.
MUFY is equivalent to A/Levels and the Australian Year 12 and is recognized by the Australian Department of Immigration and Citizenship (DIAC) for student visa purposes – a requirement that most other foundation programs in Sri Lanka do not satisfy. Thus, MUFY allows admission into the full range of undergraduate degrees at Monash University and all other Australian Universities.
MUFY is also accepted by top universities in the UK, Malaysia, and New Zealand. Most importantly, MUFY is a university-designed program specifically intended for students entering university.
Whether you are planning for a career in medicine, business, information technology, engineering, science, or the arts, the MUFY program's flexible format enables you to tailor your study for the degree of your choice. The teaching methods and continuous internal assessments offered to students emulate a true university academic style.
What makes MUFY different from the A/levels is that the final grades for A/levels are based solely on exams whereas with MUFY results are based on a university-style continual assessment process where exams are only part of the grade. Moreover, the program is one year in duration compared to A/Level, which is a two year program. Thus, starting MUFY after O/Levels provide students with a true university experience and the opportunity of graduating and entering the workforce two and a half years ahead of their peers who opted for A/Level studies.
The MUFY syllabus is delivered over three semesters with examinations held at the end of each semester and internal assessments conducted throughout the semesters. Therefore, a student's overall grade is determined by the average of their entire performance in both semesters, including internal assessments and examinations. This enables the student to obtain a better reflection of their true abilities and develop a greater understanding and appreciation of the subject content they study. For MUFY students, starting at ANC Education offers a smooth transition, academically and socially, from studying in their home country to the social and academic environment of an international university abroad.
Many students worldwide seek admission to Monash University campuses in Australia, Malaysia and South Africa, which offer nearly 800 programs from ten specialized faculties. As a member of Australia's prestigious Group of Eight universities and recognized internationally as among the top 1% of the world's best universities (2012-2013)*, Monash University has undeniably made its mark as a university of high global standards for quality. A degree from Monash is a student's first and most important step towards career success. Contact Monash College Sri Lanka at ANC Education on 07738 444 38 for more information.
*Times Higher Education World University Rankings 2012-2013
Contact Monash College Sri Lanka at ANC Education on 07738 444 38 for more information.
Follow @timesonlinelk
comments powered by

Disqus