University of Ballarat MBA and MBA Finance in Sri Lanka….
View(s):

The University of Ballarat is a modern and progressive Australian Government University in Melbourne,with a history of proving tertiary education and teaching reaching back more than 140 years. It is the 3rd oldest territory institution in Australia,known for its applied and practical programmes and strong links to industry, University of Ballarat is recognised internationally as aleading institution for innovation and enterprise and for preparing its graduate for successful careers. TheUniversity of Ballarat is a member of the Association of Commonwealth Universities and its degree and post graduate programme are continually monitored to meet society and industry demands.

The University of Ballarat was acknowledged recently as the only University in the state of Victoria (Melbourne) to achieve 5 out of 5 stars in the Good Universities Guide for its teaching quality. This was accompanied by four stars for graduate satisfaction, staff – student ratios, getting a job, access by equity groups and cultural diversity. This places the University in the top tier of regional universities. Also the University's teaching performance was ranked in the top Ten Australian Universities according to data released by the Federal Department Of education, Australia. The University has established partnership arrangements in several Australian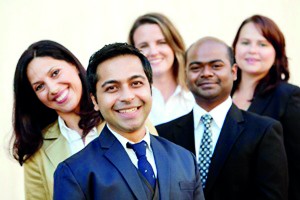 capital cities and overseas to enable international students, in particular to take advantage of what the University of Ballarat has to offer.
ATMC and the University of Ballarat are working in partnership with the goal of proving high quality educational experience, relevant and internationally recognised educational qualifications at under graduate and post graduate level in the field of Information technology formation Systems, Business Management and Commerce. ATMC has its successful operation in Melbourne which was extended to Sri Lanka 2 years back.
ATMC Sri Lanka is an ideal educational provider for students aspiring to complete their Masters with an industry relevantcurriculum which aims to help students achieve successful career outcome in their chosen field.The Master's program introduces you to advanced theoretical and practical concepts. Each programme has been specifically designed and delivered with passion. At ATMC Sri Lanka the class sizes are small so that you enjoy your learning experience and you do not get lost in the crowd, staff are accessible and you are a name not just a number! The college contemporary technology in all aspects of the business, delivery and services. ATMC is dedicated to providing the latest and best hardware and software solutions for all the students.
What makes MBA and MBA Finance programmes absolutely stand out from the rest are the following:-
Every subject is managed by the University of Ballarat – a 142 year old government university;
Each subject includes copious lecture slides, weekly week lecture material, activities and readings – an enormous bank of material which is unmatched by most if not all foreign programs offered in Sri Lanka and elsewhere;
All academic staff teaching this program around the world are managed and moderated by the University (and its partners) to ensure global brand equity;
The quality of the program in markets such as Sri Lanka (or elsewhere) are the same as in Australia – this is not a cheap, slimmed down MBA; it is a serious, quality driven MBA which equips people to take their place in the senior management of any association or organisation anywhere in the world. This is not a licensed or franchised program –it is that which one would get in Australia – a benchmark MBA of serious intent, quality and delivery! UB has attracted some of the best students in Sri Lanka – and also UB is on their 32nd intake in HK and UB has been ranked as number one foreign MBA in Malaysia by MQA;
The MBA offered in Sri Lanka is a 12 subject MBA with four specialisations, in marketing, strategy, HRM and Finance;
MBA programmes come and go – so why is it that the University of Ballarat has been in Malaysia for over 15 years, in HK for the same time and other markets for even longer -because we do not compromise on quality, reputation and give value to our students. We do not offer a "bit of paper"; we offer a transformational educational experience.
Registrations now
open for July intake
Please contact University of Ballarat (UB), Sri Lanka Study Centre
AkilaPerera – T: 0772722390 / 0112055461, E: info@ubsrilanka.lk
www.atmc.vic.edu.au
Follow @timesonlinelk
comments powered by

Disqus