Fuelling creativity with Junior Inventor of the Year 2013
By Noreyana Fernando
View(s):
The provincial-level component of the national Junior Inventor of the Year (JIY) competition kicked off in Kandy yesterday (June 22), just over one month after last year's national winner garnered top honours at the 2013 Intel International Science and
Engineering (IISE) Fair in Phoenix, Arizona.
The competition calls for new inventions and innovative designs from Sri Lankan youth aged between 12 and 19 years. The winner of the national competition will be entitled to a sponsored a trip to the U.S., to participate in the IISE Fair next year.
The JIY competition, currently in its 29th year, is organised by the Institute of Engineers of Sri Lanka (IESL) in collaboration with the Ministry of Education.
Inventions from youth across the country will be displayed at provincial fairs across the country this month. The next fair will be held July 6 in Jaffna. Selected participants will then attend the national competition at the IESL headquarters in Colombo.
JIY committee chairman H.R. Gunasekara said all submissions must be original.
"We don't expect new inventions like those made by Alexander Graham Bell. But it should not be an existing product with a few changes either. Do something new — think outside the box."
JIY began its affiliation with Intel in 2008, under the leadership of then JIY Chairman Jayavilal Meegoda.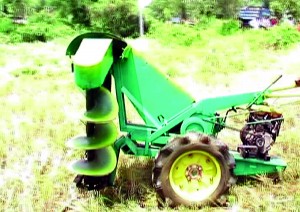 "When I started as chairman 14 years ago, my goal was to have at least one student from each school participating in the competition. So we organised Engineering workshops at provincial levels, followed by provincial competitions. Interest in the competition has grown visibly over the years. In 2001, we had about 30 applicants. Today, we have over 1,500," Meegoda said.
Last year's JIY winner Pubudu Kapuge said his victory in the US competition was a victory for Sri Lanka.
"Coming from a rural place like Anuradhapura, and going on to win globally, is a great thing for me and my country. I encourage others to take part in this competition and go on to bring another victory home," Pubudu said.
Kapuge's invention, named the "Ridge Cutting Machine," was placed first among 31 submissions from across the world in the Electrical & Mechanical category at the IISE Fair last month. The Ridge Cutting Machine is designed to cut weed in paddy fields, with the help of an attachment to a harvester machine. This is particularly useful when the harvester machine is idle during preparation for the harvesting season.
Kapuge hails from Mihintale, where he attends Mihintale Madya Maha Vidyalaya. The school was upgraded from Mihintale Maha Vidyalaya following Kapuge's victories.
Kapila Seneviratne, Kapuge's teacher and mentor, encouraged teachers to help students pursue their potential.
"Pubudu always thought deeply about everything. He would then bring his ideas to me and ask me if they are feasible. Pubudu is eager and always participates in class. I encourage teachers across the country to recognize potential in their students," Seneviratne advised.
Follow @timesonlinelk
comments powered by

Disqus