CADD Centre, Matara, to enhance employability of engineers
View(s):

Gainfully employing qualified engineers – those who have degree, diploma and certificate holders in civil, architectural, mechanical, electrical and electronics engineering – can result in productivity gains for industry and growth of economy. For, engineers bring skills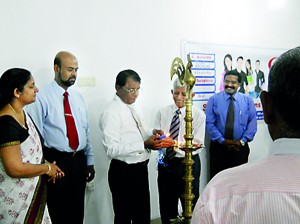 that help companies to automate their product development, and it is through innovation and productivity a nation's economy grows.
However, the employability of engineers is low because of gap in industry institute collaboration. The challenge of unemployment of engineers within the country points also to the missing link in higher education, which is: training in engineering software such as Computer Aided Design (CAD), Computer Aided Engineering (CAM) and Computer Aided Manufacturing (CAM).
We have many prestigious higher and technical education institutions but not many world class training centres to impart our engineers with knowledge of world class engineering software that is widely used in all manufacturing, infrastructure industries as well as services sectors. Training in engineering software can ensure employability of engineers manifold because the adoption of IT across the value chain of all industries is increasing rapidly.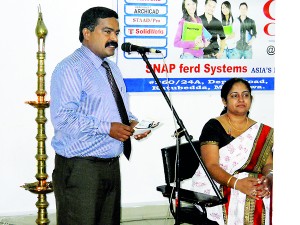 The whole process of product development starts with 2D designing or 3D modelling of product ideas, and then analysis for FEM (Finite Element Method) and kinematics, and finally, engineers generate a set of engineering drawings for manufacturing. This way CAD/CAE/CAM provides an efficient, easier and cost-effective method for modeling and designing critical parts, components, and structures with enhanced quality and accuracy.
Since software solutions facilitate easy manufacturability, CAD/CAE/CAM products are making inroads even into hitherto untapped service sectors such as food and beverage, retail and apparel, and even, financial and investment services. Hence, irrespective of the domain, CAD skill enriches productivity.
Engineers have knowledge but applying it needs training in software that the local industry uses. At CADD Centre, Matara, which is promoted by the local industry body, we bring highly customized yet internationally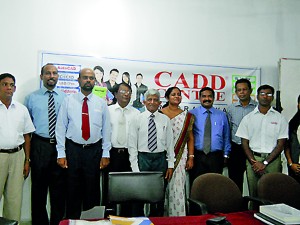 recognized CAD/CAE/CAM and Project Management courses to our engineering students.
Learning CAD is one thing and learning from Asia's largest network of CAD centres is another. Leveraging our partnership with over 15 leading engineering software companies including Bentley, Cadance, Dassault Systems, PTC and Siemens NX, we at CADD Centre are able to bring as many as 100 different certificate, diploma and master diploma courses in all engineering streams including civil, architecture, mechanical, electrical, and electronics.
Our Centre boasts of a sophisticated training infrastructure, more importantly, our faculty members trained by none other than global software developers. The courseware is co-developed with software companies with inputs from the industry. And the certification too is endorsed by software companies. All these enhance the employability of engineers within the country and abroad. With about 360 centres in 15 countries, we have so far trained about 8 lakh students who are employed in over 40 countries. The same world class CAD education has come to Matara to help our engineers find jobs quickly within Sri Lanka and abroad.
Follow @timesonlinelk
comments powered by

Disqus