Study Medicine in Belarus – Eastern Europe
View(s):

SLMC Recognised English Medium Medical Education – Total cost Rs.3.2 million

PATHE Study Medicine is the Medical University placement division placing potential students to earn world recognised medical degrees. Over the last 12 years PATHE Study Medicine has hundreds of Sri Lankan students in various Medical university of through trusted and excellence of service.

Belarus – Eastern Europe

The Republic of Belarus is situated in the eastern part of the Europe, bordering Russia in the north and east, Ukraine in the south and Latvia, Lithuania, Poland in the west.

The name 'Belarus' means 'White Russia', a tender and poetic name that befits e country in the best way. 'White' means clean, fair and innocent. Likewise the people of Belarus are humane, values stay eternal and it stands as a land of calmness.

Vitebsk State Medical University (VSMU)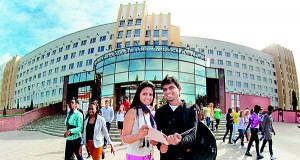 Vitebsk State Medical University (VSMU) is one of the most famous government medical universities in Belarus, VSMU is located in the city of Vitebsk in Belarus in East Europe. Vitebsk State Medical University was founded in November 1934 and started enrolling foreign students in 1981. Since then more than 1250 foreign students, including over 150 from Sri Lanka have graduated from here. Presently more than 5000 students, both local and foreign, including over 200 Sri Lankan students admitted by PATHE Study Medicine, are studying here the MD (Doctor of Medicine) program.
Education system
The system of higher education in Belarus is well formulated, advanced and at par with the western countries. Its standards with progressive and sophisticated teaching methods and scientific approaches have gained global recognition and is considered to be one of the best in the world.
Truly Affordable Medical Education
VSMU Medical degree is very affordable and parents have the option of making payments on ANNUAL OR SEMESTER BASIS.
The moderate tuition fees with affordable living cost makes VSMU as the best investment for students and parents seeking high quality medical education.
Sri Lanka Medical council approval
Medical universities should fulfill certain criteria to be fully recognised by the foreign country Medical Councils.
The criteria are duration of the program, the curriculum, staff and facilities in the university, teaching hospitals, and the location of the school. Vitebsk State Medical University (VSMU) surpasses all those criteria with flying colors.
VSMU graduates have performed exceedingly well in ERPM (Former ACT 16) examinations and have earned a reputation for their academic excellence in Sri Lankan medical system.
With many students from leading medical families in Sri Lanka (Whose parents are consultant medical doctors)
Recognition & Accreditation
VSMU is fully recognized by WHO (World Health Organisation), GMC (General Medical Council) – UK, AMC (Australian Medical Council) – Australia, ECFMG (Education Commission for Foreign Medical Graduates) – US and Canada. VSMU graduates are eligible for sit for the respective examinations of such medical systems.
PATHE Study Medicine has already started accepting the applications for the next intake August 2013. Contact PATHE Study Medicine on: 0777-570 498. You are also invited to visit us at No.111/ -1/2, Maya Avenue, Kirulapona, Colombo 06. Website – http://www.pathestudy.org/
Follow @timesonlinelk
comments powered by

Disqus