UK Education for You & Your Children
UK Education for You & Your Children
View(s):
The G.C.E. A/L examination is a great platform for higher education but only a handful of people with top results are selected for the campus. In today's world, doors are open to many higher education opportunities and therefore, most students prefer to complete their higher education in a foreign country and without a doubt, many of them have become successful professionals in their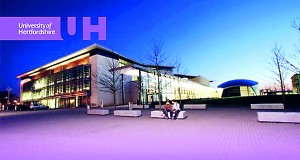 respective industry. The United Kingdom stands out as a foreign education destination amongst higher education seekers. Now, even you have the wonderful opportunity of experiencing the life and education in a country such as Great Britain. If you plan on travelling abroad for higher studies, there are many important aspects to look into because many students have fallen into difficulty by not knowing the proper procedure.
To give you a better idea, The Director of Universal Academic Services, Mr. Chinthaka Perera shared his knowledge about foreign higher education.
According to him, there are many important facts to look into before selecting a suitable university. You need to have a good idea about the university grading system which is examined by the government. The University of Hertfordshire (UH) has managed to stand out on top in this grading system being no. 329 amongst 70,000 universities around the globe. Further, the United Kingdom allows students to work part time while doing their higher studies. Furthermore, when studying for postgraduate course, with a Student Visa, even the student's family members have the opportunity to visit the country.
However Starting from April, the UK government made a few changes to the student laws and this was mainly due to the misuse of previous laws. Unfortunately, not many students are aware of these changes. According to new laws, courses are categorized up to NQF (National Qualification Framework Level) 7. Categorization is done up to NQF level 7 and while many benefits are on offer during level 7,
According to Mr. Perera, these benefits include the option of migrating your spouse and children under 16 to the UK, if the applicant is going to study for NQF level 7 courses. It is important to understand that not only it needs to study for level 7, and your study institution should be a government sponsored institution, meaning, if it is a private education provider, you will not have this opportunity as well as you are losing the right of working part time while studying in the UK. It is therefore better to do a research about your education provider in UK before you finalize, and in this respect, the University of Hertfordshire is a government sponsored institution and therefore, if you study with UH, not only you can work on part time basis while you study in UK, and if you are going for NQF level 7, then you could take your dependent with you.
If you prefer to do a part time job in UK while doing your studies, then the location of your University is very important;
In related to the ideas of Mr. Perera, it is easier to find part time jobs if your university is located in a place where there are "Commercial Cities" surrounding, as then you will have easy access to lots of commercial towns to look for a suitable part time job; as there are some educational providers are situation in very idealing place where students have to travel a long distance to reach a town or nearby commercial cities.
The University of Hertfordshire is located just 20 minutes away from the capital city of London. Further, there are many commercial cities located around the University and that would help students to find a suitable part time job while they continue their studies.
However, it is very important to know that many individuals fall into difficulty when deciding their goal because some of them give priority to their work but not the education & focusing your studies and completing it successfully would open, many opportunities
and less chances of getting into difficulty.
Consequently finding a proper representative in Sri Lanka is equally important before pursuing your foreign education, in most cases, Representative is registered with the British Council as well as it is wise to check with the UK education provider about the legal rights to represent them in Sri Lanka as there are many representatives claiming about the representation, but it found to be not the case.
For the past 13 years, Universal Academic Services (UAS) is working with University of Hertfordshire (UH) on exclusive basis & dedicated themselves in providing free consultation for students wishing to pursue their higher studies in a foreign country. They provide the accurate information on selecting the most suitable University and Degree programme which suits best for the students' needs while giving the opportunity to be in direct contact with the university. Their continuous support will be extended in handing University application up to obtaining an unconditional offer and further assisting with student Visa application. Finally, they make sure your safe passage to UK, particularly to the University.
University of Hertfordshire has arranged a free "Selection Discussion" with one of its staff members from the International team Ms. Quinn Taylor Lauren on 29th Saturday June at "GALADARI Hotel" from 10.30am to 12.30 pm giving the access to all the above information in details, answering any individual questions and even facing a free interview for a "Admission" to the University of Hertfordshire on the same day. This event is totally free of charge; but you need to reserve your seat in advance and if you are interested, please contact UAS on below and reserve your place; For more information about UH, its courses, facilities and services, please contact Universal Academic Services – No. 15, 1/2, Kirulapone Avenue, Kirulapone. E-mail: srilanka@uas.org.uk, T.P.: 011-5054888.
Follow @timesonlinelk
comments powered by

Disqus