Begin tennis on the right foundation
View(s):

At the competition level there are plenty of leads available in tennis, but beginners have problems finding the right path. Many beginners walk away after investing heavily in equipment, time and energy, becoming the 'Victims-of-Tennis'.
Tennis requires the application of physical, mental and sensory abilities into a disciplined reaction. As they advance they need guidance, instincts and adaptability to perform under pressure. That is all there is to it.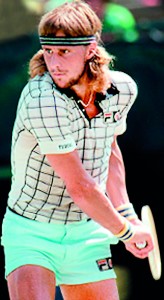 Technique is only a guide
Harry Hopman of Australia coached the most number of Wimbledon champions in the history of the game. In his method of teaching technique was strictly a guide nothing more. It was so 'by design' and not by oversight. The technical approach in development misleads far too much and makes the game dull for beginners. 'Good instincts' to perform under 'time pressure' was Harry Hopman's main concern. It was addressed by him with the utmost intensity even on beginners, in the right progression. Our former ATP player, Arjun Fernando, told me that his former coach in US said, "Winning in tennis will fall on to time-management when all else is equal." Very true!
Beginner as victim
In many ways beginners are the victims of tennis. When coaches teach beginners without putting them into competition it will have negative results. The notion that coaches who teach students till 14 years of age need not have played competitive tennis is dreadful. I am sorry to come down so hard on this fact. All I am trying to do is save many beginners from being the Victims-of-Tennis. We have too many ball and court assistants and teenage dropouts teaching tennis without open tennis experience. Certification is not a substitute for playing skills but rather it complements a coach's ability. Certification only addresses teaching methods, it will not make anyone a player. Many beginners do not know this and end up as Victims- of- Tennis.
Beginners learn by imitating
It is called the kinesthetic process. Beginners acquire skills by watching and copying. That is learning by doing. Non-players are bad examples to copy. This is the real danger when such players teach. In Sri Lanka even after such a huge effort during the last 30 years, we have been very unsuccessful in effective development. The recent Asian U-14 result from Vietnam proves this. To teach competitive tennis, coaches need Open-Tennis experience at least until the age of 28. Maturity in movement appears only then, to produce examples to be followed. In tennis, a wrong start is almost impossible to correct without a very high price. Most beginners unable to correct themselves give up tennis.
What are tennis' basics?
Little common sense will save beginners from being the Victims- of-Tennis. Technique in tennis is to get a guide and not for judgment. There are three basics for beginners.Physical; the tennis court has the largest surface area for an individual to cover. For good performance a height of 5 ft 8 inches and a 148 lb strong body is needed. I mentioned this before. With us this happens only after 17 years of age. Tennis is a late maturity sport, have this in your development planning and do not rush to be a teenage wonder. Sport is first and foremost a fun experience.
Mental – Reactions begin with decisions. It is the primary function of the mind in sports. In tennis shot selection is the decision-making process. Any delay in decision-making will result in a bad reaction. A good game comes from good reaction. Get used to making decisions as beginners. Your reaction depends on that.
Sensors- 'Watch the Ball' is a common teaching call in tennis. It is to know all about the ball coming at you. This triggers our reaction chain to make the shot. Tennis needs sight and sound for good reaction. Good contact is a result of good sighting. Develop senses for all aspects around the court. All of them are good leads to play well.
The all important Comfort Zone
As beginners, do not challenge yourself beyond your comfort zone. This is where the conflict begins between technique, biomechanics and reaction. The discomfort is the conflict. All of us DO NOT have the same biomechanical efficiency. So how can all of us use the same technique?
Street sweeper
How to begin tennis without feeling uncomfortable?
Except for the grip, the concept of being technically correct is a mere sales pitch. The basics of all sports are genetic in nature. When Bjorn Borg of Sweden used a double-handed backhand he was called everything including a street sweeper. Five years later the whole world joined him to sweep the streets! He made the double-handed backhand a permanent feature in tennis. The original-swing is gold. Not changing it is considered to be the secret of all great players. Borg developed his comfort zone swings well and became one of the all-time greats in the tennis world.
A stroke is to create power and control. Contact transfers it into the ball. Achieve this within your comfort zone. Start tennis with an all-court play-grip. Do not compromise on this. Apart from that, stay with your natural biomechanical movements for comfort. It will also lead you to be a successful competitor. Just watch the top 20 of the world, they are all different. -
georgepaldano@yahoo.com
Bjorn Borg – original swing is GOLD
Follow @timesonlinelk
comments powered by

Disqus