Sri Lanka and India emerge champions
M. Shamil Amit, reporting from Negombo
Invitation Asian Men's and Women's Beach Netball
View(s):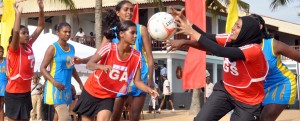 The Sri Lanka women's and Indian men's teams emerged champions in the First Invitation Asian Men and Women's Beach Netball Championship conducted by the Sri Lanka Netball Association with the support of the Ministry of Sport which concluded at the beach adjoining the Catamarans Beach Hotel in Negombo yesterday.
The championship saw the  participation of three teams in the men and four in the women's category. The invitation tournament was for teams that participated in the 8th Asian Women's Netball Championships which concluded at the Sugathadasa Indoor Stadium on Friday.
The men's teams that participated in the invitation tournament were hosts Sri Lanka, who are taking part in a men's beach netball tournament for the first time, neighbours India and Pakistan with Maldives being unable to make it while the four teams in the women's tournament comprised host Sri Lanka, India, Pakistan and Maldives.
The Sri Lankan lasses recorded a comfortable 19-10 win over their Maldivian counterparts whom they defeated 17-10 in the round robin encounter while the Indians took sweet revenge over Pakistan who beat them 23-19 in the round robin match to clinch the title with an easy 21-13 win in the final.
The Sri Lanka lasses ended their round robin matches with a hundred percent record as they won all the three matches they played with the minimum of fuss. The unbeaten record saw Sri Lanka advance to the final. Meanwhile in the men's category India and Pakistan qualified to the final as the two team overcame Sri Lanka in the round robin encounters.
President of the Sri Lanka Netball Association Tamara Dharmakeerthi speaking to the Sunday Times said that the tournament was organized with the aim of encouraging netball players in the Asian region. She further added that there is lot of interest being taken by the Asian countries in this sport with Japan and Brunei making vast strides which is good for netball in this region.
She added she was disappointed with the defeat of Sri Lanka to Singapore in the final of the 8th Asian Women's Netball Championships which concluded in Sri Lanka on Friday. She however stressed that it's part of the game and that we must not be discouraged with the defeat but should carry on. "We should forget the past and aim for a slot at the forthcoming Commonwealth Games which is due to be held in 2014.
But it's going to be a daunting task for us as before that as we will have to play 19 tournaments within the time period before June 2013."  She was however confident that this could be achieved if the right path is taken and that the girls should be encouraged by giving them international exposure to the maximum.
Results:
Men – Pakistan beat Sri Lanka 23-19; Pakistan beat India 23-19; India beat Sri Lanka 16-10.
Women – Sri Lanka beat Pakistan 26-02; Maldives beat India 14-10; Sri Lanka beat Maldives 17-10; Sri Lanka beat India 25-03.
Finals – Men:  India beat Pakistan 21-13. Women: Sri Lanka beat Maldives 19-10,
Follow @timesonlinelk
comments powered by

Disqus