Dressing Up
Upeksha Hager showcases her designs at a new 'cluster' collection sale, pulled from her spring/summer, resort and holiday shows.
View(s):
Stacked in an inviting heap on a long, low bed are Upeksha Hager's newest designs. They're a kaleidoscope of colour and fabrics – thin cotton, cool linen and glimmering silk, some inset with delicate lace or edged in playful piping. You want to rummage around in there, unfold that cute mini and see how it goes with the top in the other pile or to slip on the old fashioned dress with the luxuriant skirt and twirl in front of the mirror.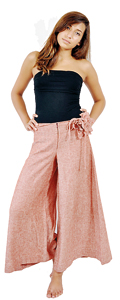 If you give in, you couldn't find a more indulgent partner than Upeksha herself. In fact she'd like to see clients do just that when she breaks out her new 'cluster' collection this month.
Her design aesthetic draws from an interesting background that includes work in costume and stage design (a leap when you consider that her previous interest was in biochemistry) with a degree in the visual arts. On her resume is a stint in Washington D.C, where Upeksha lived and worked, having migrated with her family to the States when she was 16. In between designing sets for plays, she also made a name for herself there with her own modest line of clothing.
Returning to Sri Lanka with her husband and young son, she's become known as the name behind 'U for Upeksha' which is sold locally in a few upmarket boutiques and was featured on the ramps at the Colombo Fashion Week earlier this year. She's excited about a resort wear collection she's putting together for an upcoming fashion show but the curious will have a chance to check out her work before then.
"I often indulge in designing little cluster collections," Upeksha told the Mirror Magazine. "This allows me to explore many different moods, colour pallets and materials." The clothes she'll be putting on display belong to one of three big collections she produced this year: spring/summer, resort and holiday wear. "I am really excited about the up-coming sale because it is a collection of many different design expressions," says Upeksha, who is looking forward to seeing women with a passion for fashion try out her designs.
The special collection sale will be on from September 6-8 between 10am – 8pm at the Hilton Residencies. Find her online at U by Upeksha on Facebook. Contact ubyupeksha@gmail.com.
Follow @timesonlinelk
comments powered by

Disqus