Graduating Interior Design to Architecture – AOD Interior Designer Amodha Rathnayake
View(s):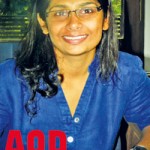 Sri Lanka has produced some incredibly talented architects, including the internationally acclaimed legend Geoffery Bawa, establishing a thriving architectural industry in the island. The newly emerging interior design industry is now fast becoming the design/creative counterpart of the local architectural business. Amodha Rathnayake, an interior design graduate of AOD (Academy of Design) is a young designer who is contributing to local architecture through her creativity.
Amodha, is currently designing for one of Sri Lanka's premier architectural firms – MICD led by renowned architects Murad Islmail and Channa Daswatte. "I've had some great opportunities to get involved in both international and local projects under the guidance of Archt. Murad. MICD never confines my creativity, allowing me freedom to explore different aspects of contemporary styles", says Amodha.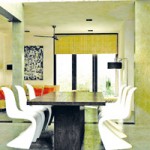 Amodha was involved in designing for the refurbishment project for Four Seasons, Maldives and is currently engaged in designing the Citrus chain of hotels for MICD.Amodha also leads her own private practice; "While serving MICD, I've started my own practice where I've offered design concepts for corporates such as American & Efird Lanka (Pvt.) Ltd, Diamond Cutters (Pvt.) Ltd and Niru Diamonds – Israel. Without confining myself for such corporate designs I'm engaged in few residential designs as well. Factory refurbishment project for Diamond Cutters Ltd. and the infrastructure development project for the Biyagama Export Processing Zone (on behalf of A&E) are considered as challenging projects which I've undertaken so far"
Amodha credits her design campus AOD, for teaching her everything she knows about design and interior architecture. "Working on tight deadlines, high expectations leading to out of the box thinking, being extra ordinary among ordinary, managing time, working with different groups of people were few things among a long list of expertise which I gained during my education at AOD. The value of such discipline has come in to the play today in my professional career making me recognized as a young interior designer with a creative flair and professionalism."
AOD has one of South Asia's most internationally relevant interior design degrees from Northumbria University School of Design UK. This globally acclaimed degree is delivered in full by an international staff at AOD. "I should acknowledge the hard work and guidance of the academic staff of AOD" adds Amodha gratefully. AOD provides world renowned design degrees in fashion, fashion marketing, interior design, graphic design, motion graphics & animation along with certificate education in jewellery design and photography. For more information contact AOD on 11 5867772/3 or visit www.aod.lk, www.facebook/AODSrilanka
comments powered by

Disqus