So many saints
By Duvindi Illankoon
'Those Were the Days', a new show by a choir known for their heavenly sound
View(s):
The Saints choir has a rather interesting story behind their name. Its 12 member group hail from St.Benedict's, St, Sebastian's, St.Joseph's, S.Thomas', St.Mary's, St.Anthony's Katugasthota…" So many 'saints'!" musical director and trainer Priyanke Perera says. And so the group was aptly named the 'Saints'.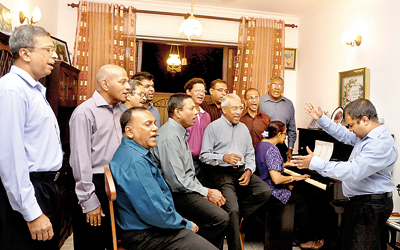 The choir was initially formed in 2005 "just for kicks" by a group of friends, but it quickly grew into something more, as friends and family picked up on their amazing talent. The Saints choir is made up of a four part harmony, and they say that's what sets them apart from the rest. "We take everyday songs and turn them into something special," smiles Priyanke. "And our audiences have remained constant over the past seven years." Priyanke, who trains the choir along with Suren Abeysekara, finds it to be an extremely rewarding experience. They've done six musical events over the past few years.
"Initially we would sing the very choral, spiritual sort of numbers," explains Placi Gomez, a choir member. "But we started singing more of the popular hits over the years. It's important to be able to sing well, but it's also important to connect with your audience. People want to have a good time at the end of the day."
A good time is exactly what they hope to deliver as well, with "Those Were the Days" on September 9 at the Lionel Wendt. Expect some Engelbert Humperdinck, Ricky Nelson acapella-style, Bryan Adams, Boys II Men, Sting, and more that the choir has branded with their own unique touch.
The proceeds from the event will go to the Achievers School for the Differently-Abled, a cause close to their hearts. Box plan for the show that starts at 7 pm and tickets are priced at Rs.1000, Rs.700 and Rs. 300 (balcony) and are available at the Lionel Wendt.
Follow @timesonlinelk
comments powered by

Disqus