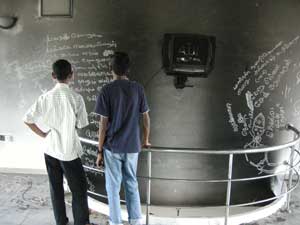 Two youths at the Masjidur Rahman read slogans written by Thawheed members condemning the attack. The slogan dubs a rival mosque moulavi as "Sheikh Prabhakaran". Pic by Athula Devapriya
"I'd like my brand to be the Gucci of Australia"
The words 'raise the bar' keep cropping up. For this petite Sri Lankan, Tokyo, London, Paris, have all been milestones on a path she's drawn as directionally as any of her cutting edge designs.
CIC looks for new name
Chemical Industries Colombo Plc (CIC) which has seen a major shift in its business model by moving rapidly into the business of agriculture and its production, is planning a name change to reflect the changing character of the Colombo firm famous for its Dulux Paints and fertilizer.
The Bush in Obama
GUANTÁNAMO BAY, CUBA - Hearings are underway in the United States Senate to assess what to do with the 240 detainees still behind bars at Guantánamo Bay, and what will become of the military tribunals and detention without trial that the Bush administration and a compliant Congress put into place.
Match-fixing allegations rock series
The menace of match-fixing reared its ugly head again with media reports claiming that Pakistan cricketers were approached by bookmakers in Colombo during the recently-concluded Test series against Sri Lanka.
Police search for Islamic preacher

The Government yesterday launched a manhunt for a controversial South Indian Islamic preacher amidst reports that he was responsible for sparking sectarian violence among Muslims in Sri Lanka. Immigration Controller P.A. Abeykoon told the Sunday Times yesterday he had sought Police help to locate the preacher named Kovai Ayoob

.
UPFA using displaced people for vote buying in Jaffna
Displaced people in camps in Vavuniya and Jaffna are being used for election propaganda by the ruling United People's Freedom Alliance (UPFA) for next week's local polls in the areas, residents said yesterday.
Un-holy happenings
Just when the people of this country thought the era of blood-letting was over with the defeat of the LTTE, last week's 'Holy War' in Beruwala among sections of Islam's followers came as a jolt.
The pain of parting

They are no longer the happy mothers they used to be… they are sad and dejected because their babies have been snatched away from them.
MOST VIEWED ARTICLES




LATEST NEWS