Sri Lankan companies should look towards India as the main market for investing overseas, says Chairman of HTL Logistics, Reyaz Farook. In an interview with the Sunday Times FT, Mr. Farook said India was an attractive market for investors from all parts of the world, due to its politically stable environment and well-educated and qualified ministers who worked together to improve the country. HTL Logistics has been in India for the past 22 years and has branched out into Bangladesh, Pakistan, Dubai, Mauritius and several other countries. Mr. Farook said the services and tea industries should find Indian partners and set up operations. He added that there was also a growing demand for automobile accessories in India as the market was growing rapidly.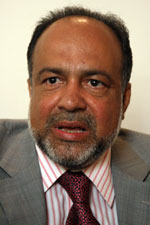 Reyaz Farook
"It's a tough call as to what industries should go but there needs to be a hands on approach," Mr. Farook said. "India is a huge market. The Sri Lankan government should be speaking to India on facilitating businesses with each other," he said. Mr. Farook suggested that the Central Bank (CB) should allow Sri Lankans to go abroad for investment purposes provided the CB approves and monitors the investment and allows the profits to be brought into the country at zero taxes. "This will also help Sri Lankans to go abroad and work in Sri Lankan companies."
Speaking on the shipping sector, Mr. Farook said the Hambantota Port Project is very important as it will open up competition with the Colombo Port but will also be beneficial to the South India - Sri Lanka trading route, similar to how Hong Kong is to China. There will be less sailing time for vessels, thereby bringing down the cost of fuel. Infrastructure will be cheaper and there is easy access compared to the Colombo Port with far less congestion and will ease the time it takes to clear goods. Mr. Farook said there are lots of warehouses in the South with cheaper rentals which will also help manufacturers in the South who will not need to travel to Colombo. He said the Hambantota Port will also help businesses in Trincomalee and the East.
Mr. Farook said the South Container Terminal Project could increase competition with the Colombo Port but monopoly laws had to be amended and companies be charged for engaging in anti-competitive practices. "There have to be more players and there must be pricing wars," he said. "There are lots of ports coming up in India so there is competition from them." However, he said Sri Lanka should attract consider engaging some of the South Indian port business.
Mr. Farook said HTL Logistics has an annual turnover in India of US$ 46.3 million. The total revenue for the company from the Indian Subcontinent alone is US$ 52 million. He said HTL Logistics is a brand name which is well known in the market and has over a 1000 customers. The company is planning on expanding into China which has had to open its market after joining the World Trade Organization (WTO). Huge license fees and securing a Chinese partner were obstacles for investors which are now removed.