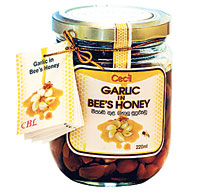 Ceylon Biscuits Ltd (CBL) has ventured out on a dual-pronged project in the cultivation of Medicinal garlic to promote the production of bees honey in the Badulla District.
These two projects are part of its Corporate Social Responsibility (CSR) programme with the aim of uplifting the rural communities.
CBL said in a statement that it will make available this product of medicinal garlic in bees honey along with its other natural products such as kithul treacle and jaggery at its own exclusive outlets at Pannipitiya, Crescat Boulevard, Kandy city Centre, as well as at all leading super markets in the country.