A dearth of qualified translators and interpreters is a major hurdle to the implementation of the National Language Policy with a pressing need for them in courts, provincial councils and local authorities.
This was revealed at a workshop held on the "Crisis in translation in the public administration" last week.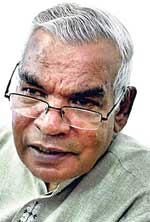 Prof. S. Thillainathan
The cadre strength of the Translators Service was around 600 but there were only 131 in the service at present, Official Languages Commission (OLC) Chairman Raja Collure said. However, the actual requirement of translators runs into several thousands with the administration of justices sector alone needing a minimum of 500 translators and 500 interpreters.
According to Prof. S. Thillainathan, a member of the OLC, many government departments and institutions do not have the facilities to either reply to letters received in the second official language (Tamil) or to provide a translation.
"In several sectors, translation is a serious problem for the public. In courts, certificates of birth, marriage, death, etc. in Tamil are not accepted and certified copies of Sinhala or English translations have to be submitted at the expense of the clients," he said.
Mr. Collure said the non-availability of qualified translators should be addressed at school level with the education system being geared to produce persons who were bilingual or trilingual (Sinhala, Tamil and English) while the universities should also organise their language departments to put out graduates who were competent in at least two languages.
The workshop concluded that general education should include training in the second national language -- the national language which is not the mother tongue, meaning either Sinhala or Tamil -- and that the second language be made a compulsory subject in school.
It was also recommended that facilities be provided to students who wished to offer the second national language as a subject at the GCE Ordinary and Advanced level examinations. In the university system, it was suggested that language courses should be designed to combine both national languages.
The OLC also recommended that a translation centre be set up, modelled on the Translation Bureau of Canada to provide the service of translations of documents and of interpretation and connected matters.