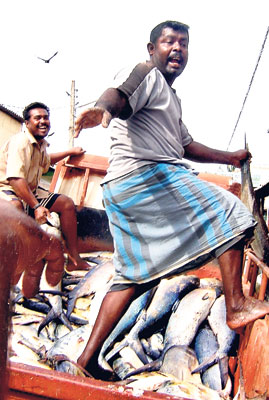 I'm selling fish, catching fish, people call me fisherman
The lifting of fishing restrictions last week in the north after 20 years has brought smiles and benefits to the war-hit fishing community and consumers. With more fishermen out in the sea, prices of fish have dropped drastically. In northern fish vadiyas, seer is sold at Rs. 200 a kilo, prawns at Rs 150 and crabs at Rs. 75. Earlier most of these varieties were selling at over Rs. 1,000 a kilo. Above a scene captured at the market in Kodaddi, Jaffna yesterday. By N. Parmeswaran
An artist, his garden of many creatures and creations
When young Noel Brian Ranasinghe and his band got into coloured sarongs, straw-hats and with bare feet sang a strange kind of baila, it was not unusual for people to call them all sorts of names like 'Malu Karayas' or 'Rasthiyadu Karayas'.
IRD to tax Golden Key and depositors
The cash-strapped Sri Lankan government has directed the Inland Revenue Department (IRD) to recover all taxes payable by the Golden Credit card company and its depositors numbering around 7,200, a move that would dismay depositors.
T20 in retrospect
What is this world coming to? The respected Cricinfo reporting team have picked their T20 top Xl sans a single cricketer either from the pre-cup favourites Australia or India ..
Structured amnesty for Tigers

Guidelines for a structured amnesty to LTTE suspects and their sympathisers are being drawn up by the government's legal departments.

Lanka furious over Lord's attacks
The Sri Lankan High Commission in Britain has formally lodged a protest with the Home Office in London over what it termed 'lethargy' by the local police in dealing with pro-LTTE elements who physically attacked more than two dozen Sri Lankan cricket fans , including women, after the T20 World Cup final at Lords last Sunday.
Democracy in peril
For a Government on a tidal wave of popularity, backed by a largely friendly media, the re-activation of the draconian 1973 Press Council Law which has the powers to send publishers and journalists to jail must surely mean that it sees imaginary demons ahead.
"Pata", "pata", and a bloody tragedy unfolds

A toddler has just woken up from his sleep and his heart-rending lisp of "Amma" rises above the hushed whispers of a crowd gathered at his home and the twitter of a large number of exotic birds.
The brothers at war
Nuno Prayer de Andrado, who was at the stores, was greatly disturbed when he heard of the plot of the Malabars.
MOST VIEWED ARTICLES

LATEST NEWS