It was 3 a.m. The silence of the night was disturbed by some hurried footsteps toward the doctors' quarters. A sarong-clad figure knocked on the door and called out "Sir.. You are needed." The summons was anticipated and taking his medical kit, Dr. Rajapakse hurried toward the dimly-lit shed in a corner of the Pinnawela orphanage.
'Surangie' the female elephant was grunting in pain, only minutes away from delivering her first born. Soon she gave birth to a fine male calf. It was a momentous occasion- the 50th successful birth at Pinnawela Elephant Orphanage.
The baby elephant was later named 'Kanaka' which means gold in Sinhala. After the birth, mother Surangie cleaned her baby using her trunk. 'Kanaka' got up on its still weak knees, within 30 minutes of birth and struggling to its feet, started feeding.
Elephant social structure
Working in Pinnawela for more than 10 years, Dr. Rajapakse has witnessed many such successful elephant births. "As soon as Surangie delivered the baby, there was a sense of excitement among other Pinnawela elephants. Those who were chained in a distant shed made low grunts like welcoming the new boy to the Pinnawela elephant family," Dr. Rajapakse said, revealing interesting aspects of jumbo behaviour witnessed on May 24 when 'Kanaka' was born.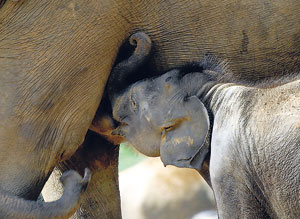 Happy together: Kanaka and mum Surangie.
According to this 'elephant doctor' the elephants have a social structure very similar to humans. It was clearly witnessed the first time Surangie – the proud mother- met the herd. Even though they had not brought any presents for the new born, all Surangie's family members and friends gathered to see it. They touched the proud mother with their trunks as if 'congratulating' her and welcomed the new born. Knowing that mixing with the herd is the best way to reduce the mother's stress of delivery, expert veterinarians allow the mother to mingle with the herd seven days after birth, sometimes even earlier, if the baby is stable.
The Pinnawela Elephant Orphanage was established in 1975 by the Department of Wildlife Conservation and later handed over to the National Zoological gardens in 1982. The first elephant couple at Pinnawela was Vijaya and Kumari. Kumari gave birth to Sukumali on July 5, 1984. It was headline news. But the continued efforts of Pinnawela officials have made such headlines a common occurrence in the past 25 years.
Mating
The breeding process of elephants is also a jumbo task. According to Dr.Rajapakse, elephants are not seasonal breeders and the male elephant can mate anytime. Females come into heat once in three months and remain in breeding conditions for three days. During this time, their feeding habits are disturbed and an elephant will show signs of restlessness. As soon as she is unchained in the morning, the female will approach mature males, a sign for the mahouts to inform the vets about the female in heat. The main herd consists of female and immature males, but one mature male is always kept with them as a method to identify females in heat.
Though it was love at first sight for the first couple Vijaya and Kumari, nowadays Pinnawela youngsters are forced to undergo 'arranged marriages'. This is to avoid inbreeding between Pinnawela elephants who are born within and related to each other. Inbreeding weakens the gene strength and can cause abnormal births. When a young female is ready to mate, Pinnawela officers send her to the 'love park' located in an isolated corner. Then the male is sent to the 'love park'. They always select a male that is not in musth as elephants in such a condition are violent.
Difficult labour
An elephant pregnancy can be identified by either a scan or blood samples. Pinnawela vets usually use the latter method to determine pregnancy. It is indeed a jumbo pregnancy period of 21 months. At the last stage of pregnancy, the female jumbo is chained to a delivery shed which is located a little away from where they are chained at night.
The mother-to-be shows signs of labour usually about five- six hours before birth. She becomes restless, stops feeding and takes instead to chewing on her own trunk. Tears too appear in her eyes and she begins raising her hind limbs alternately while scratching the floor with her forelimbs. These are the signs for mahouts to send the mother to the 'delivery shed'.
Usually the mother is given the company of a family member or its 'best friend' to avoid feeling alone. Even if this fails, the mother is again allowed to mix with the herd. "Perhaps the mature females advise the new mother that there is nothing to worry about. This method has always proved successful when a birth gets delayed," Dr. Rajapakse said. Most of the births have taken place at night.
However, birth is still a stressful task for a female elephant, especially for the first time mother. Dr. Rajapakse recalled a confused elephant mother that killed its new born. "Since that unfortunate incident, we always keep sedative drugs ready, if the mother gets violent," said the vet. If the mother shows signs of restlessness, it is sedated and mahouts clean the baby. However, it is always the first hour that can be fatal due to the stress of delivery for elephant mothers, who always show their affection afterwards.
It's vaccination time
Like for human babies, vaccinations start after three months. But these jumbo babies are vaccinated for rabies, tetanus etc. However, it is not only 'Kanaka' that Pinnawela vets have to look after these days. Within a span of eight weeks, three baby elephants were born in Pinnwala. This is quite special considering there were no elephant births in 2008. First to arrive was Udara born on April 4, the second 'Dinuda' born on May 24 - the week Sri Lanka's military triumphed over terror, hence named 'Dinuda' meaning the 'born in victorious day'.
'Dinuda' incidentally missed its mother's milk for at least first months because mother Sandali was too tall and Dinuda couldn't reach her nipples. So Dinuda was fed formula II milk until it grew tall enough to suckle on its own. Sometimes the mahouts have to mix milk and guide the calf to start suckling. Occasionally babies go to other elephant mothers for milk.
It is no easy task to look after the Pinnewela baby jumbos, but the 50th successful birth indicates the staff's dedication to making it a success.
Future of Pinnawela
Pinnawela is not receiving any elephant babies from wild since the establishment of Udawalawa Elephant Transit Home (ETH) that rehabilitates the elephants and releases them back to the wild. Though veering away from the orphanage concept, Pinnawela continues its conservation effort as a captive elephant breeding centre.
Pinnawela already houses 89 elephants and at least three more females are awaiting the results of pregnancy tests. Space will also be an issue with its population explosion, so the administrators are now looking at the possibilities of establishing the second such conservation centre.
Pinnawela:
Established by DWC : 1975
Transferred to Zoological Department : 1977
Breeding programme is started : 1982
First birth: 1984
Most elephant births within an year : 8 babies in 2006
Most successful Mother : Mathalie – mother of 5 elephants