Thanks to a project initiated by the Information and Communication Technology Agency of Sri Lanka (ICTA) and implemented by the University of Colombo School of Computing (UCSC) it will be not long before much cost and trouble-cutting will occur in specialist care for patients.
The project called "Vidu Suwa" that will bring comfort to the rural patient, specialist doctor and the peripheral clinic was launched by Health Minister Nimal Siripala de Silva at a function held at the Galadari Hotel Colombo.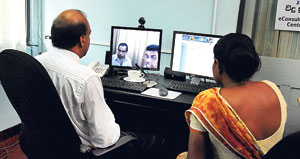 Dr. Keith Chapman at the e-Consultation Centre at the Base Hospital in Marawila communicating with Dr. Lal and the patient at the e-Clinic in Dankotuwa as seen on the computer screen under the ICTA-assisted 'Vidu Suva' project.
With this inauguration an ICT oriented project came into operation for the first time connecting a base hospital and a district hospital to make specialist e-consultancy service available to patients in rural areas. In this first 'vidu suva' endeavour the Marawila base hospital is the specialist e-consultation centre while the Dankotuwa district hospital is the e-care clinic.
The main focus of the 'Vidu Suva' project is to link the specialist in a general hospital in a city with a patient in a peripheral setting via a doctor using easily acquirable and relatively inexpensive technology that is currently being used. This simple concept is put into practice with a very little extension to the existing technology.
Senior Lecturer, UCSC Dr. Shiromi Arunatileka, said that this concept that connects the Marawila base hospital to the Dankotuwa district hospital as a pilot project could be replicated to operate between any base hospital and a district hospital to bring this ICT-oriented ease and cost and time reduction to patients seeking consultancy service.
The main beneficiary of 'Vidu Suva' is the patient as his travel expenditure, difficulty of travelling and travel time will be reduced tremendously. Unnecessary secondary visits to tertiary centres and specialist clinics will be reduced.
The cost of transfer of patients from peripheral hospitals to tertiary centres also can be drastically reduced. This will facilitate the availability of ambulances for critical and emergency transfers between institutions. The availability of patient health records electronically will help these hospitals to make pro-active decisions on resource allocations and patient care.
The specialist makes himself available across a distance at many e-clinics within the shortest possible timeframe. This has the added impact of specialised care reaching out to the periphery. Needless to say that knowledge transfer occurs with benefit to the doctor at the peripheral e-clinic and a closer professional link is established between the specialist and the peripheral doctor.