A toddler has just woken up from his sleep and his heart-rending lisp of "Amma" rises above the hushed whispers of a crowd gathered at his home and the twitter of a large number of exotic birds.
What the little one in his childish ignorance is oblivious to is that his mother is dead, as also his beloved "Apochchi" and his step-grandmother, allegedly killed by his own father who is now in remand.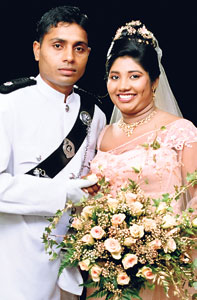 Susantha and Lakmali on their wedding day.
He and his baby sister have become the unwitting and innocent victims of a tragedy very early in life – the tragedy of a triple killing last Monday night (June 22) around 8.30-9.00, while they were fast asleep in their Maha Gedera in the highly residential area of Nikape off Hill Street in Dehiwela.
"Pata, pata gana saddeta thama mama aherune," recalls 85-year-old S Wanigarathne, the Mahappa of one of the victims, explaining that he woke up when he heard a "pata, pata" sound. As he stepped out of his room, he saw someone leaving the house through the front door.
There was blood all over and when he walked into the room leading off the hall, he saw his nephew, Upali Perera, Vasantha (Upali's wife) and Lakmali (Upali's daughter) fallen with gunshot wounds in pools of blood.
Other relatives told The Sunday Times that 52-year-old Upali, a wealthy road construction contractor, had married thrice. Lakmali, 26, and her sister, Sandamali, were from the second marriage. Lakmali who had attended a leading girls' school in Colombo was a teacher at a small international school in Kohuwela and lived with her husband Sub-Inspector T.A. Susantha and their two children, the son and the daughter at the Maha Gedera in Nikape, along with Lakmali's father, step-mother, grandmother and grand-uncle.
The rear garden of the large house is taken up by cages full of exotic birds including cockatoos, Upali's expensive hobby. In three large kennels, are two big boxers and another dog, whose deep bark we heard but did not see.
"Baba was always with Upali and when Upali's younger daughter rushed into my home shouting, 'Thaththata wedi thibba' and we came to see what had happened the dog was in the room by the fallen Upali," said a neighbour who declined to be named. 'Baba' was the male boxer who never left Upali's side.
For the neighbour, it was a usual night like any other. "Nikape was a quiet village until this happened. All of us are in shock," she said. She has known Lakmali since her birth. "Usually, we take a plate of sweetmeats to their house during the Avurudu celebrations," she said.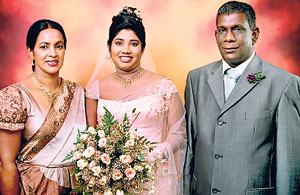 Lakmali flanked by step-mother Yasantha and father Upali and (above) cutting the cake, the traditional police way.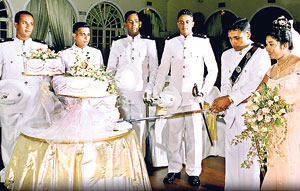 Lakmali was very efficient. She would feed her two children their breakfast around 5.30 in the morning and take the little boy with her to school. By about 6 in the evening, the two children would be in bed, after dinner. She used to drive her own car for Upali presented Lakmali with a car the day she got eight distinctions at her OLs, said the neighbour, adding that Upali was also very fond of the two grandchildren, who called him 'Appochchi'. He would buy them expensive toys and whatever they wanted.
"I was told about Lakmali's wedding a few days before the grand function at the Mount Lavinia Hotel," said Mr. Wanigarathne, a retired teacher, who had literally taken over Upali's family when Upali's father died. "Upali and his brother were very young and I saw to their every need," he said.
When Lakmali began a relationship with Susantha, the young SI, Upali approved of it and got them married. They came to live with Upali and Vasantha and life moved on. Lakmali's younger sister had also married and was living in Nittambuwa but on that fateful day she had come with her sick son to get medical treatment and was staying overnight.
Susantha, from Wellawaya, had first served at the Dehiwela Police Station and was attached to the Boralesgamuwa Police Station, being seconded to the Intelligence Unit of the Borella Police Station.
About two months ago, there was a change in the household. Tension was apparent, with some talk that Upali and Lakmali had lodged a complaint with the police against Susantha, said Mr. Wanigarathne. There were arguments between Lakmali and Susantha.From about two weeks before the incident, Susantha stopped eating his dinner at home and would bring a packet from outside. He would carry his children and walk up and down in the verandah, but not say a word to the others in the house, he said.
On Monday, it was that Mr. Wanigarathne heard the "pata, pata" and thought it was the sound of crackers, before seeing all the blood in the house.
When the neighbour and her husband came on the plea of Sandamali, the Pereras' garden was in darkness. "We were reluctant to venture in wondering whether he was hiding somewhere," said the neighbour. They shouted to passers-by to help as well.
"In the room, 'Baba' was there amidst the blood with its tongue hanging out. We rushed to the other room and touched Lakmali's children's chests to check whether they were breathing. We also called 119," she said, explaining that Sandamali was also numb with pain, shock and horror and in no condition to speak to the Sunday Times.
\ According to her, by this time a knot of people had gathered by the house. There was shocked activity, thereafter. Upali's body was sent to the Kalubowila Hospital in a lorry, Vasantha's in Upali's Pajero and Lakmali's in a police jeep.
It was the doctors who told us that Lakmali was also expecting a baby, said Mr. Wanigarathne, adding that they also heard that Susantha had gone to the Dehiwela Police after the incident and he was now warded at the Kalubowila Hospital because there was a gunshot wound on his hand.
As the Perera household braced itself for the funerals of three of their members and Susantha, husband, father and son-in-law is in remand, people were streaming into this tragedy-struck home where the three coffins were laid out in the hall, some out of sadness and others out of morbid curiosity. Gossip, speculation and knowing looks were aplenty "about property matters" and "other private issues".
The onerous task of sifting fact not only from fiction but also from emotion and finding out what went wrong in this family tragedy now lies with the authorities who deal out justice.