Royal Institute of Colombo, committed to academic excellence in tertiary education, offers a wide range of BSc degrees in the areas of Accounting, Banking, Business, Development, Economics, Finance, Information Systems, Management, Mathematics, Sociology and Law and diplomas in Economics, Social Sciences and Law of the prestigious University of London and the London School of Economics and Political Science (LSE).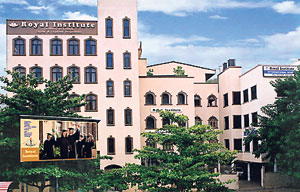 A good number of foreign degree programmes offered in Sri Lanka today are in association with foreign universities of mediocre standing and are perhaps misleading prospective students. Royal Institute of Colombo is quite different in that it is linked with and strongly supported by one of the best universities in the world - the internationally reputed University of London.
University of London, which provides an unrivalled range of educational opportunities of outstanding breadth and quality, established its External System as far back as 1858 which currently has more than 43000 studying in over 150 countries. All programmes offered through this system are developed by academics within the colleges of the University of London which ensures that University of London awards are recongnised world-wide for their quality and value and students benefit from the academic rigour and cutting edge research undertaken within the University.
Robust quality assurance mechanisms have been endorsed by the Quality Assurance Agency - UK's independent body for safeguarding quality and standards of higher education. Students of the External System are examined in the same standard required of students enrolled at the University. This principle of equivalency is enshrined in the University Regulations. Degrees and other awards granted to our students have the same academic standard. Therefore studying with the University of London is one of the greatest investments you can make.
Mr. GT Bandara, Chairman of Royal Institute of Colombo stated that the LLB degree programme conducted by Royal Institute of Colombo is extremely popular among students, not only due to its acceptance as an internationally recognised academic degree but also because it is considered the best option to qualify as an Attorney-at-Law in Sri Lanka by sitting the Law College examinations after obtaining the LLB degree in two years and ten months, obviating the need to sit the extremely competitive Law College entrance examination where around 10,000 candidates compete for an annual intake of about 250 students.
Additionally, a holder of the LLB degree of the University of London also has the opportunity to qualify as a Solicitor or Barrister in UK as the degree satisfies the academic component. Mr. Bandara added there has been an exponential growth in the demand in the number of students seeking to read for the LLB degree and the Diploma in Law of the University of London. "We have 18 years of experience in teaching for the LLB degree and have produced the World's Best LLB graduate in 2007, which speaks volumes for the quality of our teaching" he added.
While students with traditional A/Level qualifications may register direct and read for the LLB degree, those who do not possess such qualifications are offered an alternate route via the Diploma in Law.
The latter have the opportunity to initially choose the Diploma in Law which is equivalent to the first year of the LLB degree.
On successful completion of the Diploma in Law within one year, a student can obtain the LLB degree with two more years of studies. "We have seen an increasing number of children of members of the legal profession enrolling either in the LLB degree or the Diploma in Law because they are aware of the value of our Law programme" he said "The response has been very encouraging."
RIC maintains excellent pass rates - over 95% each year and has recorded a pass rate of 100% in certain academic years. In many years, the percentage of students who obtained degrees with a First or Second (Upper) has been as high as 30 %. In terms of academic knowledge, soft skills and positive attitudes, Royal Institute of Colombo produces globally competitive graduates. It has highly qualified academicians in its panel of lecturers holding post graduate qualifications at Masters and or PhD level in the relevant fields with experience in teaching at tertiary levels.
Royal Institute of Colombo provides an excellent learning environment with state-of-the-art facilities in IT infrastructure with internet facilities and an updated and automated academic library. LLB students may also access the Virtual Learning Environment (VLE) of the University of London for Law students which provides a centralised location for many resources and hosts, among others, law subject pages with views and updates provided by legal academics associated with the Law programme, discussion forums etc. Links from Virtual Learning Environment take students to the online library programme resources and key external sites.
Mr. Bandara explained that RIC not only offers a top quality education but also maintains a high standard of discipline. Parents of students are informed whenever students are absent. It is also ensured that students, particularly girls are properly attired. He said that students are assured of employment at the end of their final exams. They get jobs even before the results are out because top companies are aware of the high quality of the Degrees and Diplomas offered by RIC.
RIC is an Associate Company of the Royal Institute Group, which has been involved in the field of education since 1971. The new academic year is scheduled to commence during the first week of September 2009 and Royal Institute of Colombo invites prospective students to log on to our website: WWW.ric.lk or call the Co-ordinator for more details.
The Royal Institute of Colombo is situated at No. 189, Havelock road, Colombo -5.
Telephone : 0112556329/ 0772355000
Fax : 2592749/2556329
Email : royaldgr@sltnet.lk
Web : www.ric.lk