A new book titled 'Trade for Peace: How the DNA of America, Freemasonry, and Providence Created a New World Order with Nobody in Charge' by Sri Lankan born American scholar Patrick Mendis looks back at America's origin to see its future. His interdisciplinary exploration, the production of a quarter century of teaching, research and global travel, has earned much praise in academic, diplomatic and development circles.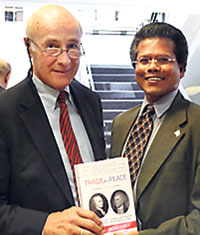 Dr. Mendis presents a book
America's founding mission has always been to promote trade to integrate the global community for peaceful living and unity as it was the case for the original 13 colonies in the union. A combination of interstate commerce (not the religion) and freedom as depicted in the American Constitution paradoxically bound and expanded the United States together as one nation.
Professor Mendis has recently argued that the World Trade Organization (WTO) is the final frontier of the American Experiment to bind the community of nations together. Dr. Lincoln Bloomfield, MIT professor of political science emeritus and National Security Council director during President Jimmy Carter, describes the book as "a tour de force." He added that Americans from other cultures sometimes show the keenest sense of this nation's values. "In this insightful work, Patrick Mendis approaches the American narrative with a sharp scholarly edge, drawing richly on America's classical roots, including a near-mystical appreciation of Freemasonry in the political architecture of the new American order."
Professor Mendis says America has been a nation of rivals ever since the arrival of Columbus. The colonists and the pilgrims embodied a 'plantation of trade' and a 'plantation of religion' through which traditions, the rivalry between the Hamiltonians and Jeffersonians has emerged to build the most dynamic union. Even with their distinctive impulses for economic interests and moral sentiments, they favoured freedom; hence, they were united for a common cause: peace.
Professor Mendis currently serves as the vice president of the Osgood Center for International Studies and is a visiting scholar in foreign policy at the Johns Hopkins University's Paul Nitze School of Advanced International Studies (SAIS) in Washington, D.C. An Adjunct Professor of Diplomacy at Norwich University and a Fellow of the World Academy of Art and Science, Mendis is an alumnus of the Harvard Executive Leadership Program at the Kennedy School of Government and the University of Minnesota's Humphrey Institute of Public Affairs. More about the book and its author is found at www.patrickmendis.com.