Talawakelle -- The national research institute for the tea sector, Sri Lanka's biggest export crop, says it is focusing on developing pest, disease and drought resistant tea plants to meet changing tea industry needs.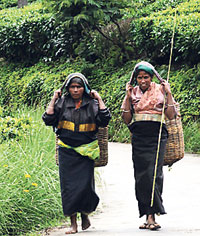 Tea pluckers
"Earlier the need was to increase the yield. So we focused on developing high yielding varieties of tea plants. But now the focus is on developing tea plants that have higher resistance to pests and diseases, and also to drought," the Head of the Plant Breeding Division at the Tea Research Institute (TRI) Sri Lanka, Dr Kumudini Gunasekare, told the Sunday Times FT at the institute at Talawakelle recently. This was part of a media visit organised by Oxfam GB, to discuss impacts of climate change on the local tea sector.
The TRI's change in research focus is due to two main reasons. Externally, the demand from tea export countries for 'cleaner' teas that use fewer chemicals, is growing. Internally, the island's weather is seen as becoming more unpredictable.
For instance, this year already, Sri Lanka's central tea growing highlands experienced prolonged dry weather, and some parts of the highlands saw an extended period of frost. Both extreme weather conditions damaged tea leaves and reduced tea outputs. According to the Sri Lanka Tea Board, tea production during the first quarter of this year dropped by 41.6% compared to last year, mainly due to drought. Indigenous, seasonal teas that fetch higher prices in the world market are the worst hit by vagaries of the weather.
"Seasonal teas like Dimbula and Uva teas are for niche markets and are higher priced. These are also the teas most affected by changes in weather because the weather plays a role in bringing out the distinct characteristics of these teas. For instance, Dimbula teas, produced around January to March, need cold mornings and hot days. When the weather pattern changes, there is a change in the quality of the tea," explained the Director of the TRI, Dr Sarath Abeysinghe.
So, to mitigate impacts of drought and to meet external demand for 'cleaner' teas, Sri Lanka has developed new varieties of tea plants. The process took 20 years and the work is ongoing.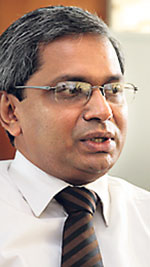 Dr Sarath Abeysinghe
"We do not, on principle, develop genetically modified tea plants. We use conventional breeding techniques, of cross breeding, to develop new varieties of tea with specific characteristics. So it takes about 20 years to develop a new cultivar. But we have now also started molecular biology screening, which is a faster process," said Dr Abeysinghe.
The TRI is now trying to introduce its new tea varieties to producers, but smallholders, that supply the major share of tea, say bad weather is only part of the problem.
Dead from drought
Small producers were the hardest hit by the drought this year. N.K. Atapattu, President of the Diriya, Smallholders Association representing 42 smallholders in the Mahaweligama village, in the Kothmale Divisional Secretariat of the Nuwara Eliya District,says the drought this year is the worst he has seen in almost 12 years.
"In 2008, from a half acre plot, we got on average, 162 kgs of tea leaves per month. But this year, up to April, we got about 139 kgs per month on average," said Mr Atapattu. Ms Nalini Aluthgama, a member of Diriya, with a half-acre of cultivated tea land, said, "About 100 trees in my plot are dead because of the drought."
Ms D.M. Dingrimanike, another member of Diriya, has only a quarter-acre of cultivated land.
"For this whole year, my tea plants are not putting out leaves properly. I have got 47 kgs per month, but this year because of the drought, it even went down to 4 kgs," she said.
Bigger problems
Smallholders say they cannot replace their existing older tea plants with the TRI cultivar because of the high cost of replanting. Smallholders are also badly affected by uncertainties like price fluctuations for their produce, lack of skills and not having legal land rights.
For instance, 55 families in the Mahaweligama area, are people with only 'temporary' settlement rights.
These families, displaced by the Mahaweli Development Programme, have no legal ownership to the lands they are currently living on. They have been living in legal-limbo for 25 years, since they were shifted by the then government in 1984.
The villagers in Mahaweligama are also living in fear of landslides and earth tremors. "How can we invest in developing our business when there is no certainty about what will happen to us and we don't have legal rights to these lands? For the last 25 years, we have been asking successive governments to either re-settle us, permanently, elsewhere, or to give us deeds to these lands. We need a permanent solution for us to settle down, and develop," said Mr Atapattu.
Smallholders say these uncertainties have slown down the development of the country's tea sector.