York University and University of British Columbia in Sri Lanka for the Canada University Fair 2019
View(s):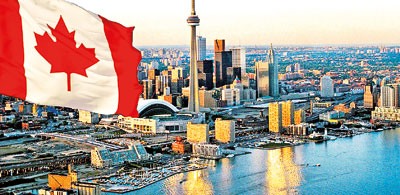 Organized by Canadian High Commission in partnership with ANC
Date    : Saturday, 16th February 2019    Venue      : Kingsbury Hotel, Colombo
Time   : 10:00 a.m.- 3:00 p.m.
Date    : Sunday, 17th February 2019
Venue : ANC Branch Campus, Kandy
Time   : 10.00 a.m. – 2.00 p.m.
Canada will welcome nearly 1 million immigrants by 2020 which means new permanent residents to Canada as part of the multi-year strategy adapted by the Canadian government in what they call "the most ambitious immigration levels in recent history".  This is great news for international students who are studying in Canadian Universities to secure a job right after graduation and start the process of applying for PR.
Canada is becoming the first choice as a study destination for international students because Canada offers the best of everything; excellent academics, abundant job opportunities, safe and secure environment, affordable tuition and living, vibrant cultural life, Canada's fastest growing economy as well as its geographical beauty are some of the reasons identified for this trend.
Canada University Fair 2019 organized by the Canadian High Commission in partnership with ANC Education has presented the ultimate opportunity for students to gain all the information they seek from international admission directors from the world's top universities in Canada.
York is World's Top University in Research and Academics
York University's true strength is their exceptional degree programs distinguished by their quality and global perspective. York U is home to Canada's largest liberal arts program, the only space engineering and global health programs in the country. York is also ranked top 100 universities in the world in Social Sciences and Arts & Humanities while their Communication Studies, Linguistics and Philosophy programs ranked top 10 in Canada.  Other programs include; Biotechnology, electrical engineering & computer science, Business Analytics & many more.
York University is Canada's most multicultural university with more than 60,000 students, faculty and staff who can trace their roots to 157 countries globally. York spans across 500 acres and is Canada's 3rd largest university. York is located in the most vibrant city of Toronto.
York University is ranked one of the top 10 universities in Canada for research impact with 24 research centers and 53 Distinguished Research Chairs and 28 Distinguished Research Professors; one of the most dynamic research communities in the world. York is proud to boast that 92% of their professors have the highest qualifications in their fields and employers know that a York degree is a promise of essential skills and deep knowledge, hiring 87% of York's graduates within six months of graduation.
University of British Columbia among the Globally Best
The University of British Columbia (UBC) is among the world's best universities; ranking among the 40 best globally, placed among the top 20 public universities in the world, ranked 3rd in Canada (QS 2019 world universities) and ranked 2nd place in the U.S News and World report.
One of the best things about UBC is its spectacular location in Vancouver Island; Vancouver Campus and the Okanagan Campus attract, nurture and proactively transform more than 58,000 students from Canada and 140 countries. It has one of the warmest climates to live in with a breath taking beauty unlike any other state. UBC offers over 60,000-degree program choices for undergraduate and graduate students at their two campuses and affiliated teaching hospitals. Programs include; Engineering and technology, Business, economics & management, health and life sciences, media and fine arts, political science & law and many more.
For more than a century University of British Columbia is one of the world's top research universities that has created positive change in Canada and abroad as a global center for teaching, learning and research. UBC students, faculty and staff continue to embrace innovation and challenge the status quo, placing UBC at the forefront of discovery, learning and engagement.
Students that attend the Canada University fair 2019 will be given exclusive access to have one-on-one sessions with the international admission directors of both York University and University of British Columbia and other top Canadian Universities including University Canada West that offers business-oriented and career-focused programs and Royal Roads University with 75 years of leadership and learning excellence.
Sri Lankan and regional students can look forward to getting firsthand information of the admission process and applications, details of the degree programs and the opportunities to discuss scholarship opportunities to some of the world's Top Universities. Parents and students can spend plenty of time with advisors to discuss the best academic pathways to follow, facilities offered, scholarship programs and the cooperative work and internship opportunities available for students to gain valuable on the job experience while getting paid a considerable amount of money.
Register for the event by calling 0773 957070 or visit www.ancedu.com  and follow us on Facebook: https://www.facebook.com/ancedu/ and "ANC Education" on Instagram.