My experience as a student at ESIGELEC Graduate School of Engineering, France
By Ms. Prashani Rodrigo, Lyceum International School, Wattala, 3rd year MSc Engineering student (AIC Campus 2016/2017 Intake)
View(s):
My university experience thus far, has been amazing. I was afraid at first but I was also ready to see what ESIGELEC had in store for me. The first week, which was in September was called "Semaine d'accueil" which means it is the welcome week organized by the second year students of ESIGELEC to get know everyone. I was afraid on the first day but I was keen on discovering ESIGELEC. I am happy to say that the students were very kind and open to learn about the Sri Lankan culture too. There were so many students who introduced themselves to me and they were impressed that I could speak in French even though I made mistakes.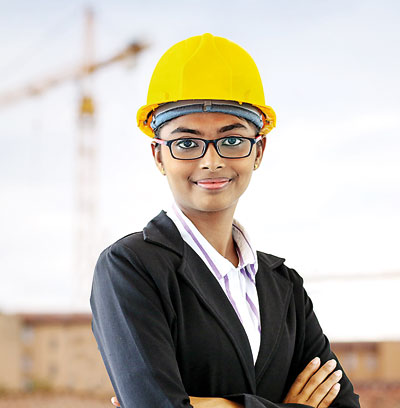 Speaking French?
It has been nearly five months since I entered to ESIGELEC and so many of my friends tell me that I have greatly improved in speaking 1rench. My advice to anyone who comes here is not to be afraid to speak in French no matter how many mistakes you make. I learnt French from my friends and my friends learnt English from me. I found myself surrounded by students who helped me with my studies, helped me engage in associations and encouraged me all the time.
Associations?
There are associations ranging from sky-diving, piloting to race karting. There are sports, charity, university journal, sailing, gaming and many more. Five months in and I am already in the journal club, charity club, organizing team of the Gala (big event). I play basketball and badminton too. I am happy that I got to pursue my studies and do extra-curricular activities at the same time. Everyone is very friendly and you can always join these associations.
Studies?
Of course the most important part is studies. I have been questioned if it is difficult? My answer is nothing is difficult but nothing is effortless. Yes, I was also afraid of how my studies would be. There were lectures that I understood very well and there were lectures that
I didn't understand. But my surprise was it was the same for all the French students as well! Don't be afraid if you don't understand a lecture, it is a part of any university experience. They give us a lot of resources and past papers to learn and understand. The professors are very kind; you can ask them any questions at the end of the lessons. I formed groups with other French students to study for my first few exams because they helped me understand and I also helped them. After a few exams I got a hold of how to study for the exams.
Cost of living?
This is something which most of us are worried about. Normally the cost of living sums up to about 520 euros with electricity bill, transportation, food and phone bill. And you get housing aid of about 170 euros. So total will some upto less than 400 euros. Can you do a part time job? Yes, there are student part time jobs. The university does not encourage us to do part time jobs during the first year but there are jobs in Rouen which you can find.
Excellent University Facilities
The university is highly equipped because it is affiliated with different companies. The have a research building and many laboratories for different domains. There is a canteen, library, four large student halls. The Gymnasium is right next to ESIGELEC too.
About AIC Campus
AIC Campus is a Member of the IMC – AIC Education Consortium, a leading transnational
education service conglomerate established with a vision to provide total higher education
solutions under one roof. AIC Campus has partnered with a consortium of international
universities including ESIGELEC Graduate School of Engineering (France), Montpellier Business
School (France), IPAC Business School (France), James Cook University (Australia), Deakin
University (Australia) University of West England Bristol (UK) and National Technological
University of Belarus, which are recognized locally and internationally. AIC Campus offers,
Global University Foundation Programs, Global University Transfer Programs, Degree Completion
Programs in Civil and Mechanical Engineering, International Business and Marketing and Direct
Placements to leading Universities.
Admissions for 2019 intakes have opened now, therefore students and parents are encouraged to directly contact AIC Campus for admissions and inquiries.
AIC Campus Colombo – 0777 33 55 11
No. 154, Havelock Road, Colombo – 05.
AIC Campus Kandy – 0777 23 00 33
No. 21, Srimath Kudarathwatta Mawatha, Kandy.
AIC Campus Negombo – 0759 66 64 44
No. 349/2, Main Street, Negombo.