A Letter to you from
View(s):
"Pain is temporary. It may last a minute, or an hour, or a day, or a year, but eventually it will subside and something else will take its place. If I quit, however, it lasts forever. That surrender, even the smallest act of giving up, stays with me. So when I feel like quitting, I ask myself, which would I rather live with?"
On a bright sunny day of September, exactly on the 18th of September 1971, in Plano, Texas, a suburb of Dallas; I, Lance Armstrong was born. I did not know that my fate was decided even before I saw the first light rays in this world.
My parents divorced when I was just a baby, and my mother, Linda, who was only seventeen years old when she gave birth, was left to raise me all by herself. When I was three, Linda married Terry Armstrong, who formally adopted me. Mother and Terry later divorced, once again leaving us on our own. Mom was devoutly taking care of me, and although money was tight she worked long hours as a secretary to make ends meet. Her determination and dedication proved to have a lasting impact on me.
My drive and motivation were what I learned from her. She was a strong and amazing lady.
Mom bought my first bike, a Schwinn Mag Scrambler when I was seven years old. I immediately began to ride it every day and soon proved that I was a natural athlete. In addition to biking, I loved running. When I was in the fifth grade I began running six miles a day after school, and soon was entering long-distance competitions on weekends.
I also tried team sports like football, baseball, and basketball, but found that I was better at activities, like swimming, that required endurance. When I joined the local swim club, I made sure to ride my bike ten miles to early morning practices, then pedal to school. After school, I jump back on my bike and rode ten miles back to the club to swim more laps.
I was very young when I was already competing in amateur cycling races. I also began to enter triathlons, contests that combine swimming, biking, and running—all of my favorite activities. I was thirteen when I took home the "If you worried about falling off the bike, you'd never get on" top prize at the IronKids Triathlon, which includes swimming 200 meters, cycling 6.2 miles, and running 1.2 miles.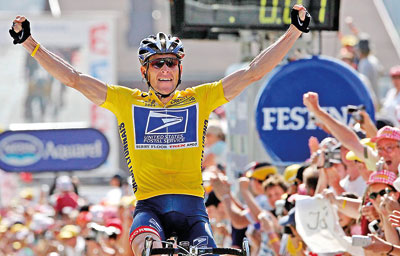 In 1987, when I was sixteen, I turned professional in the triathlon. Because of my winning streak, that same year I was invited to be tested by the Cooper Institute for Aerobic Research in Houston, Texas. Researchers measured the amount of oxygen my lungs consumed during exercise and discovered that I truly was a phenomenon: My oxygen levels were the highest the clinic ever recorded, which meant that my lung capacity, so critical for endurance, made me a natural athlete.
Some things are god given but the obstacles which come afterward should be fought and won. You don't get everything in life.
Although I was taking home top prizes as a triathlete, and raking in almost $20,000 per year by age seventeen, my real love was biking. I began training with more-experienced riders and quickly rose in the amateur ranks of cycling. I drew so much attention that when I was a senior at Plano East High School I was approached by the U.S. Olympic development team and invited to train in Colorado Springs, Colorado. Going to Colorado for six weeks would mean that I might risk not graduating, but the opportunity was too tempting. After taking private make-up classes, I did graduate from high school on time in 1989. What a ride it was! The school I mean.
I managed to cycle out of the amateur zone. In 1990, I became the U.S. National Amateur Champion. The following year I competed in the Tour DuPont, which covers 1,085 miles over eleven days, and finished somewhere in the middle of the pack, which was apparently admirable given my age at that point.
Later that year I won Italy's eleven-day Settimana Bergamasca race, and in 1992, I competed in the Summer Olympics in Barcelona, Spain. Although I came in a disappointing fourteenth, scouts and sports analysts predicted great things from me. In 1992, when I turned professional, I was asked to join the Motorola cycling team.
Life as a professional cyclist was not without its speed bumps. In my first pro race, Spain's San Sebastian Classic, I came in last out of a field of 111 participants. Two weeks later, however, I wowed the racing circuit when I placed second in the World Cup, held in Zurich, Switzerland. I went on to have an impressive year in 1993. Earning the Triple Crown of cycling when I won victories at the Thrift Drug Classic, the Kmart West Virginia Classic, and the CoreStates Race, this is the U.S. Professional Championship. In July of that year, I made my first appearance at the race that would make me a future celebrity, the Tour de France.
The Tour de France is a three-week, 2,287-mile race that takes place in twenty stages, with competitors winding through the French countryside and pedalling up and down steep mountain landscapes. It is considered to be the most prestigious cycling event in the world and is a gruelling physical challenge. According to Mark Gorski, manager of the U.S. Postal Service cycling team who spoke with Thomas Sancton of Time, "The Tour de France is like running a marathon every day for twenty days. Very few sporting events are that demanding."
I was 21 at this stage. I did not finish the race but did win one of the stages, making me the third-youngest participant ever to do so.
In August 1993, I easily took the title of World Champion at the World Road Race Championship in Oslo, Norway. I was still the youngest person, and only the second American, to hold the title. I was placed high in race after race, and in 1995, I took home the prize from the Tour DuPont. That same year, although I came in thirty-sixth place, I finished my first Tour de France.
By 1996, at 24 I was at the top of my game: I won his second Tour DuPont, and signed a $2 million contract with the French-based Cofidis racing team.
A bout of bronchitis (a lung infection) forced me to drop out of the Tour de France in early summer; I was weakened and had a disappointing twelfth-place finish at the 1996 Olympics in Atlanta, Georgia. By the fall of 1996, I was still feeling tired and weak. I complained of pain in the testicles and began to cough up blood.
Yeah, coughed blood.
On October 2, 1996, just weeks after my twenty-fifth birthday, I was diagnosed with testicular cancer that had also spread to my lungs, abdomen, lymph nodes, and brain. Doctors predicted a slim a chance for recovery—less than 40 percent.
I was not ready to give up. I read everything I could about the disease and changed my diet, giving up coffee, dairy products, and red meat. After consulting my doctors, I decided to forego the traditional treatment for brain tumors, which is radiation. Side effects from radiation can include a loss of balance and scarring of the lungs, which would mean that I would probably never race again. Instead, doctors performed surgery to remove the tumors and then administered an alternative and aggressive form of chemotherapy.
Between rounds of chemotherapy, I continued to ride my bicycle as much as I could, and he never lost the determination to return to professional racing. At the same time, I was on an emotional roller coaster.
"I had the same emotions when I was sick as I have as a competitive athlete. At first, I was angry and then I felt motivated and driven to get better. And then when I knew I was getting better, I knew I was winning." My determination to win paid off when in February of 1997.
I was declared cancer-free.
I was a fighter.
While being physically and emotionally weak, I returned to training with a vengeance, but getting back on my bike proved harder than I imagined. My spirits dropped when I found out that my contract had been canceled by Cofidis, who considered me to be a public relations risk because of my illness.
I was fortunate to sign with the U.S. Postal Service cycling team, but my salary dropped from $600,000 (pre-cancer) to $200,000 per year. It was an 80 percent cancer cut! Haha! was not the funniest at that point though.
By 1998, I was once again a dominant force in the cycling world. In the summer of 1999, I was ready to tackle the biggest of them all, the Tour de France. The fact that I was able to compete at all was amazing, but the world was stunned when it became evident from the very first day of the race that I was a strong contender to actually win.
In what many considered to be an awe-inspiring finish, I crossed the finish line 7 minutes and 37 seconds ahead of my nearest competition. I clocked in an average speed of 25 miles per hour, breaking the previous record set in 1998. I also cemented my role as a national treasure, becoming the second American ever to win the contest.
Cancer was the best thing that ever happened to me. Cancer is my secret because none of my rivals has been that close to death and it makes you look at the world in a different light and that is a huge advantage.
Miracles happen to those who believe in them. And fight to make your dreams come true.
Lance Armstrong
Written by Devuni Goonewardene
Let's have a discussion, email any feedback to devuni@gmail.com