International Commercial Arbitration: Law College holds first ever Moot Court Competition
View(s):

Sri Lanka Law College was proud to organize Sri Lanka's first ever International Commercial Arbitration Moot Court Competition.  The competition, titled H.V PERERA QC Memorial Moot Court Competition (also known as "The Victor's Moot") was held for the first time in 2018.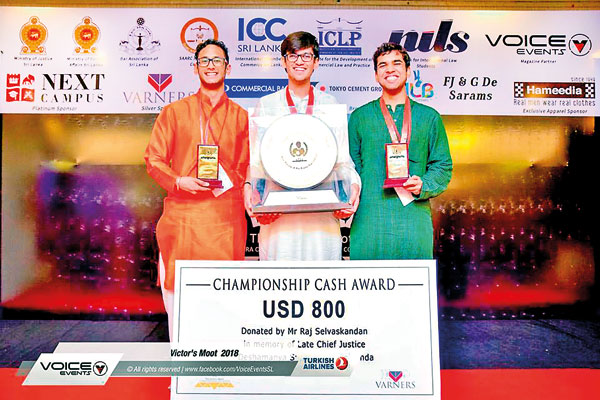 Established in 1874, the Sri Lanka Law College is the only institute which offers the professional qualification needed for lawyers who wish to practice law in Sri Lanka. The Moot Society of the Law College offers students a chance to harness their argumentation skills, oral advocacy, writing and overall understanding and application of law to contemporary scenarios. The competitions are open to external law students as well.
This landmark event saw the participation of a number of local and foreign students, with 6 Indian teams, 1 team from Pakistan and 1 team from Thailand. 8 national and private institutes in Sri Lanka also took part. The final round took place between the Rajiv Gandhi University team and the Royal Institute of Colombo where the title was won by the Rajiv Gandhi University team representing India. Mr. Damithu Surasena headed the organizing committee and the competition was adjudged by a panel of professionals in the field of arbitration and law, including Professor Romesh Weeramantry, President's Counsel Faiz Mustapha, Professor Srilal Perera, President's Counsel Professor Harsha Kabral and President's Counsel Dr Kanag Iswaran.
The concept of the competition was based on international commercial arbitration. The organizers hoped that the event would create a catalyst to strengthen the arbitration mechanism of Sri Lanka, which lacks a domestic mechanism for its development. Therefore the competition flourished with the generous donations of the SAARC Arbitration Council, The Bar Association of Sri Lanka, International Chamber of Commerce, Institute for the development of Commercial Law and Practice ( ICLP ), Network of International Law Students, Ministry of Justice and Ministry of Foreign Affairs
Co-Chair Persons Mr. Haritha Ranasinghe and Ms. Yashinka Mendis along with the organizing committee of Victor's Moot 2019 are looking forward to set another milestone by organizing the second Commercial Arbitration Moot Court Competition in Sri Lanka. This event will be held from the 22nd of March to the 25th of March 2019. The Moot Society of Sri Lanka Law College hopes to see the law student fraternity at its best during the event.
For further information, please visit www.thevictorsmoot.com