Best Value Colleges in the U.S for International Students
View(s):

~According to Forbes Magazine~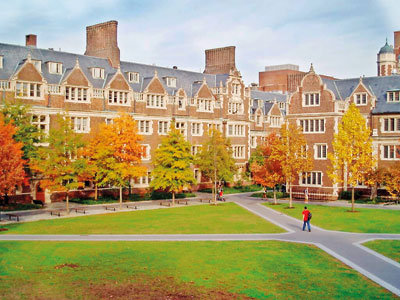 Last week we Google searched whether 'earning a College degree' is worth it. We got nearly 300 million hits on this subject.
But then again analyzing all these calculation and analysis it boiled down to the fact whether graduating from college is worth the investment of being in debt. Being in debt and also whether by getting the qualification we can cover up the debts and further earn for a better living standard. It seemed that some Colleges are better than others and some Degrees have more job opportunities and better pay.
Forbes magazine has collected data and analyzed the best value Colleges 2017 for international students, which indicates the value for money and quality education received at the same time.
The List of Colleges is as follows:
Babson College
Bryn Mawr College
Claremont McKenna College
Columbia University
Massachusetts Institute of Technology
Mount Holyoke College
Georgetown University
Princeton University
Brandeis University
University of Pennsylvania
Last week a brief explanation of the first five top Colleges was published.
Mount Holyoke College
Mount Holyoke College is a private institution that was founded in 1837. It has a total undergraduate enrollment of 2,199, its setting is suburban, and the campus size is 800 acres. This is the first institution in the all-female Seven Sisters league.
Mount Holyoke women still receive a broad liberal arts education in the suburban setting of South Hadley, Mass., but have more opportunities to travel. Mount Holyoke is one of five colleges within 12 miles, and students can take courses and attend events at each. A free bus service transports students between Mount Holyoke, Amherst College, Hampshire College, Smith College and the University of Massachusetts-Amherst. Through the school's membership in the Twelve College Exchange Programme, Mount Holyoke women can study at one of 11 other schools, including Dartmouth College and Vassar College, for one or two semesters.
Unlike many other schools, Mount Holyoke does not require students to send in SAT scores when they apply. More than 70 percent of students find employment on campus, and all freshmen who qualify for work-study must work at least one shift in the dining halls.
here are multiple opportunities to gain real-world experience as a Mount Holyoke student. Students can complete internships in the summer or during January Term, a several-week break for students to get work experience, network or take a noncredit course. The school works in conjunction with Smith College to provide career fairs for students. At any time, Mount Holyoke students can peruse the online database of alumnae contact information for help or networking. Especially notable alumnae include poet Emily Dickinson, U.S. Representative Nita Lowey and former White House Deputy Chief of Staff Mona Sutphen.
Georgetown University
Founded in 1789, with an undergraduate enrollment of 7,453, Georgetown University is a private institution in an urban setting. A culturally diverse student-faculty, which encourages unity in diversity.
Georgetown's nine schools include the world-renowned McDonough School of Business and the Walsh School of Foreign Service. Students at Georgetown have access to an accomplished alumni network running the gamut from athletes like Patrick Ewing and Allen Iverson to world leaders like President Bill Clinton, as well as access to a historic campus in the nation's capital. Georgetown's 25 athletic teams, known as the Hoyas, compete mostly in the NCAA-Division I, with the exception of the football team. The men's basketball team, a perennial power in the Big East conference, has won one national championship.
Princeton University
Princeton University is a private institution that was founded in 1746. It has a total undergraduate enrollment of 5,400, its setting is suburban, and the campus size is 600 acres.
Princeton, among the oldest colleges in the U.S., is located in the quiet town of Princeton, New Jersey. Within the walls of its historic ivy-covered campus, Princeton offers a number of events, activities, and organisations. The Princeton Tigers, members of the Ivy League, are well known for their consistently strong men's and women's lacrosse teams.
Princeton includes highly ranked graduate programmes through the Woodrow Wilson School of Public and International Affairs and School of Engineering and Applied Science. One unique aspect of Princeton's academic programme is that undergraduate students are required to write a senior thesis, or for students in some engineering departments, take on an independent project. Notable alumni include U.S. President Woodrow Wilson and former first lady Michelle Obama.
Brandeis University
Brandeis University is a private institution that was founded in 1948. It has a total undergraduate enrollment of 3,608, its setting is suburban, and the campus size is 235 acres.
Brandeis is comprised of the College of Arts and Sciences and four graduate schools. The Graduate School of Arts and Sciences offers highly ranked programs in English and history, and The Heller School for Social Policy and Management is notable for its programmes in social policy, health policy and management, and international development. Nearly 50 percent of students participate in study abroad programmes offered in about 70 countries around the world. The Steinhardt Social Research Institute at Brandeis provides research and information on contemporary Judaism and the Jewish community. Pulitzer Prize winner and New York Times columnist Thomas Friedman graduated from Brandeis, which was named for the first Jewish Associate Justice of the Supreme Court, Louis Dembitz Brandeis.
University of Pennsylvania
The University of Pennsylvania is a private institution that was founded in 1740. It has a total undergraduate enrollment of 10,019, its setting is urban, and the campus size is 302 acres.
Penn has 12 schools: Four offer undergraduate and graduate studies and eight offer only graduate studies. Penn's highly ranked graduate programmes include its Wharton School, School of Education, School of Engineering and Applied Sciences, Law School and School of Medicine. Penn's other notable graduate programmes include its Design School and School of Dental Medicine. Penn, though secular, has a strong religious life with its Hillel for Jewish students, Penn Newman Catholic Center and InterVarsity Christian Fellowship. More than 2,000 students each year participate in international study programmes offered in more than 70 countries around the world. Notable Penn alumni include former U.S. President William Henry Harrison, poet William Carlos Williams, and President Donald Trump. (Donald Trump huh? Oh well!)
Do thorough research and weigh the pros and cons of selecting your path, your university, and even the country. After all, everything counts.
-Devuni Goonewardene