Amaya Sithumini felicitated by President Maithripala Sirisena
View(s):

The Sports Captain of Sirimavo Banadaranaike Vidyalaya Colombo, Amaya Sithumini Kalukottage was felicitated during a special ceremony held at the school in which President Maithripala Sirisena was the chief guest. Amaya Sithumini, who has represented the country at several international gymnastic events, was handed over a certificate by President Sirisena in recognition of a performance at the event coinciding with the opening of the school's indoor stadium. The Principal of the school R.A.M.R. Herath was also present at the event.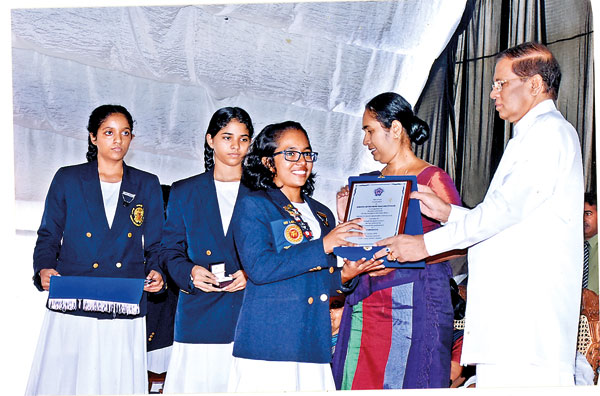 Among the main international events Amaya Sithumini has taken part are the 22nd Commonwealth games 2018 held in Australia, the 7th Asian Gymnastic competition held in Thailand and the 17th Artistic Gymnastics Championship held in Uzbekistan. Apart from that she has also taken part in All-Island competitions and won 20 gold medals and two silver medals from six All-Island School Gymnastics Championships held during 2013 up to 2017.
Amaya was named the Best Gymnast at the All-Island School Sports Competitions held from 2014 to 2018. She was also recognised as the Most Talented Student at 2014, 2015 and 2017 by her school. In addition Amaya Situmini has won the overall girls islandwide championship on gymnastics of the school in 2015 and 2016.
She has also been awarded colours and merits at gymnastic competitions held in the Western Province for six years since 2013. She was also awarded school colours for her continuous efforts in bringing honour to the school. Amaya is guided by her trainer W.A. Ranjana Tharanga, assistant trainer Ishara Nipuni and Sport Head Chamila Perera, who have helped her to improve skills.