Sri Lankan students discover the ideal study destination at The University of Queensland
View(s):

The first semester of 2019 will soon begin at The University of Queensland (UQ), with thousands of students eagerly anticipating the commencement of their studies. New students will be welcomed to a world-class learning institution where more than 52,000 students, including over 18,000 international students from 135 different countries.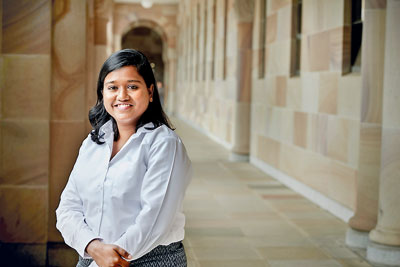 Ramith Samayamanthree is one of those international students, he studies a Bachelor of Engineering (Honours) and Economics. Ramith received a UQ School of Economics Centenary Scholarship, which has enabled him to pursue his studies in Australia at UQ.
"My interest in Australia was strongly drawn towards the laid-back lifestyle and the vast opportunities available to international students. I chose UQ mainly due to the scholarship and research programmes UQ offers and also some of my family members being present in Brisbane.The scholarship has been a motivation factor for my studies and has given me a great confidence boost with regard to applying for jobs and pursuing my academics," said Ramith.
In 2018, there were 68 Sri Lankan students enrolled at UQ. The most popular programmes for Sri Lankan students are in postgraduate coursework and research programmes, in fields ranging from economics, to engineering and science.Field trips and industry placements are key to UQ's degree programs to boost students' skills and employability, and enhance contact with prospective employers. Ramith describes how he has become involved in extracurricular programmes on offer in both economics and engineering to help boost his employability.
"I sincerely enjoy the presentations and lectures and the opportunity to engage in application based learning such as through the Community Engagement Programme under the Business, Economics and Law faculty and the Icarus Programme in the Engineering, Architecture, and IT faculty.Moreover, there aren't many universities like UQ around the world which grants the ability to pursue two very distinct degrees such as engineering and economics which encouraged me to choose UQ," said Ramith.
Other motivating factors for Sri Lankan students to choose UQ is the university's global reputation, UQ ranks among the world's top universities, as measured by several key independent rankings. Master of Advanced Economics student, Bhagya Gunawardena, who also came to UQ with the help of a scholarship, says that this and Australia's reputation as an ideal study destination, were deciding factors in her pursuing her studies at UQ.
"Australia, has a comfortable climate and the people are friendly and helpful. UQ is well reputed with being in the top 50 universities in the world," said Bhagya.
Upon arriving in Brisbane, the home of UQ's St Lucia and Herston campuses, both Ramith and Bhagya were surprised at how much the Australian capital city had quickly become their home.
"Having lived in Brisbane for two years already and having travelled to around 16 countries, I have come to notice that "Brisbanites" are some of the friendliest people I have met and I feel welcomed here as if though it's my home away from home," said Ramith.
UQ provides opportunities for talented Sri Lankan students through scholarships. Currently, a scholarship is available that will cover 50% of the cost of tuition fees for students interested in studying an undergraduate Bachelor of Economics, or coursework masters programmes within UQ's School of Economics. For details of available scholarship opportunities for international students please visit scholarships.uq.edu.au. For more information about The University of Queensland, contact Edlocate on: T: 0771-770361