Equip your Child with Public Speaking, Leadership and Sound Values
View(s):

Do you want to give your child a boost to develop his personality? Are you ready to equip her to be a leader and responsible human being with sound values who will contribute to make Sri Lanka and the world a better place?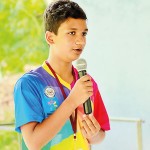 Children need guidance and motivation to go in the right direction. They need encouragement,   to bring out the best of their unique talents even as they are caught in the rat race of the competitive school environment.
The Rainbow Institute of Communication and English, a centre of excellence in communication, English and soft skills training, www.rainbowinstitute.lk  is now enrolling children for the 13th   intake of its popular training on Public Speaking, Leadership and Personality Development for   Children. (7-14 years)
FUN- FILLED LEARNING
This    interactive and fun- filled training   provides personalized coaching over a duration of 30 hours.   As sessions are limited to small numbers, each child gets individual attention and is guided to bring out the best of his or her own unique strengths.
The training is scheduled on Saturdays, from 9.00 am – 11.00 am at the Rainbow Institute, 28, School Lane, Colpetty. The new batch commences on Saturday,  23 February, 2019.
Rainbow Institute also offers individual coaching for children who want to excel in English and also for those who take part in Speech and Oratorical competitions. Many students from the Rainbow Institute have shone at school and won awards at national level competitions.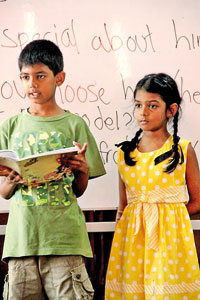 COURSE DIRECTOR
The   empowerment programmes at Rainbow Institute are directed by eminent University academic,   Dr. Mahim Mendis.
Dr Mahim Mendis, a product of St Thomas' College, Mount Lavinia, , has been mentoring and teaching   in Sri Lanka and abroad for three decades.  Dr. Mendis, the former Spokesman of the Federation of University Teachers Associations (FUTA), is well known as a powerful public speaker.
Dr Mendis is supported by dynamic young trainers with high credentials and international exposure. They are now ready to partner you to bring about a life changing turning point for a bright future for you and your child.
Book your place NOW! Call 0770788295 (Ganesha), 0775090400, OR 011438040/   or visit www.rainbowinstitute.lk
SNIPPETS FROM STUDENTS
"I made good friends and learnt a lot of things" Parami Fernando, Musaeus College
"This is the best class I have ever gone to!" Sethika Athulugamage, St. Thomas' College
"Rainbow is an excellent place to learn, not only speaking skills, but also human skills and leadership skills. It provides the foundation to be the future leaders of Sri Lanka" Malith Liyanage, Lyceum College
COMMENTS FROM PARENTS
"My son was very enthusiastic to come for this class. He clearly loves the class!" Ms. Athulagama, Mother
"Rainbow made my son very confident!" Mrs Senaratne,, Mother
"We have seen a remarkable change in terms of confidence and in terms of interacting with his friends and family, after coming to Rainbow", Mr. Kasun Fernando, Father
"The journey with Rainbow has been adventurous and amazing" Ms. Senarathne, Mother