Marija's burning rugby desire
View(s):

Mr. Playmaker talks of his moves

When initiating a move or while just performing the normal chores of a fly half Fazil Marija does it with conviction. He played for the Sri Lanka 15s side after a long absence, as deputy to Yoshitha Rajapaksa during the recently concluded HSBC Asian5Nations Division I tournament. The Lankan playmaker who spoke to the Sunday Times revealed that his real passion remained on the Sevens version.
Marija, who is regarded as Sri Lanka's best fly half in a circuit, scored three tries during the tournament which ended on April 6, helping the country to regain their slot in the Top 5. A few months ago as the skipper of the national Sevens side Marija enjoyed leading the team in the Asian Sevens Circuit as they won many trophies to be ranked fourth in the continent.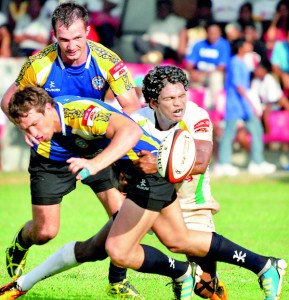 "I prefer being called Sevens specialist. But in a country like Sri Lanka you must be able to adopt into Sevens or 15s at any given time. When I enter the field I'm always determined to play my heart out, be it any version or at any level," said Marija who also expressed that the HSBC Asian5Nations Division I rugby tournament managed to bring many positives for Sri Lanka as a rugby loving nation.
This year's A5N brought the fractioned rugby players together for a national cause while it also gave the region Sri Lanka's real formula in rugby with the inclusion of many skilled players. Among many others such as Roshan Weeraratne, Chamara Dabare, Sandun Herath, Gayan Weeraratne and Sharo Fernando, Marija probably stood out of the rest for his creativity on the field. He may have scored three tries in three games but was the cause of many other tries that were scored by his team mates. For this very reason even foreign commentators considered him as an asset for country's rugby while calling him 'the playmaker'.
"At national level we as players always enjoyed camaraderie of each other. I think that was the secret behind our success. As a unit we had a very good understanding of each others' moves and that made our roles much easier. That kind of momentum is much needed for the success of any team at any level," added Marija, partly indicating to the success of his domestic side, the Kandy Sports Club.
Though 22 different players formed a formidable Sri Lanka side that went unbeaten throughout the A5N, thrashing Chinese Taipei, Thailand and Kazakhstan in big margins, come November they will scatter into their own camps to clash against each other in the much awaited Inter-Club League tournament. Marija will be in his camp of nine years, the Kandy SC, where he has been the leading playmaker and the favourite among almost all rugby fans.
"Rugby is a team sport and it's a combination of many talents. We at Kandy SC always make sure we do our preparations accurately. We have different plans for each opponent and according to their players.
We always play to our potential and support each other while respecting the skipper's call. This year Gayan Weeraratne will lead us and we will have many experienced campaigners in the camp," Marija proudly spoke about his club.
With barely six months away from commencement of the domestic rugby league championship, Kandy SC has already begun their preparations with the generous financial backing of their sponsors such as Etisalat, Singer and Cargills. Kandy SC which has a century old tradition in rugby is the pride of his hometown says Marija.
By playing for Kandy SC for almost a decade, Marija has gained immense experience through international exposure provided by his club. There was a time when Kandy SC toured Dubai and South Africa in the same year to play matches. Marija and his team mate Roshan Weeraratne had a rare opportunity to visit New Zealand to play and train with Northland, a leading club in the ITM Cup. They spent three months training and playing in top division matches but they were labelled by some back in Sri Lanka for skipping the A5N last year.
"I had to pull out to go to New Zealand for three months. It was a tour arranged after a lot of planning and we had the endorsement of our local rugby authorities. After everything was finalised, I was called in for national duty.
I really didn't want to miss out that opportunity of playing club rugby in New Zealand as it came through a scholarship programme. Earlier there were other issues but last year was genuinely because of my hunger to learn more about the game on foreign soil. I was surprised when we were fastest than the New Zealanders in the beep test. It was a chance too good to miss," he explained.
Marija states that this sort of encouragement from the club has attracted many youngsters, especially school leavers who wish to pursue a career in rugby. Marija (27) joined Kandy SC straight from Kingswood College in 2004 looking for a brighter future in rugby. With the perfect backing and dedication, he said he has almost accomplished his wishes.
"Any school leaver will like to join Kandy SC. They know that we have a comprehensive training package for the newcomers. That is the very same reason I joined and would like to continue playing for. In this regard the sponsors play a major part to build the lives of youngsters. Singer and Cargills have been with the club and I think after Etisalat joined Kandy SC reached towards more fans. Even when we come to Colombo we have a good following than in the recent times. I captained Kandy SC in 2010 and it was the first time when Etisalat sponsored us. These sponsors continue to collaborate with us this season too."
Despite being the Inter-Club Knockout Tournament 16 times in 18 years and winning the Inter-Club League Tournament for 11 consecutive years, Kandy SC's dominance came to an end last season when Havelock Sports Club ran amok to claim the league title. Marija while opining there is a day for everything to come to an end, he added that it came as a good eye-opener for them.
"Kandy SC should lose someday and it's good that we lost to Havelocks even though it came after so many years. If a team goes on to win perpetually or lose at a stretch, there is definitely a mistake somewhere. A streak has to be interrupted somewhere, if a team needs to become more formidable in the long run. It's good to lose a match somewhere in-between as it gives us the opportunity to re-hibernate and start fresh," was Marija's opinion who also spoke of his future.
"Through rugby I got to know many people from different walks of life and travelled to many countries. I also gained leadership skills and in the end rugby became my life. As at present I don't have clear plans for the future. I might continue playing for five seasons or even more. But I won't leave Kandy SC for any reason. I also have got offers from Australia and Japan to play domestic rugby and might take up the offers.
I really would like to play in overseas for some time. I captained Sri Lanka Sevens team in 2008 and 2012 and as a unit we did well last year. We missed out the Sevens World Cup by a margin of a try. At present Sri Lanka is placed fourth in Asia and if I have any hope for the moment that is to help my country better our ranking in Sevens rugby."
Follow @timesonlinelk
comments powered by

Disqus