Bin Issack looking over the horizon
View(s):

Sri Lanka's recent Davis Cup campaign carried clear signs of the country's tennis progress on the international circuit, as the nation conquered Lebanon after barely falling short against Pakistan, according to Sri Lanka Tennis Association (SLTA) President Iqbal bin Issack.

"This is the first time in history that for the third consecutive year we have remained in Division Two. Our goal now is to make it into Division One.," Bin Issack explained.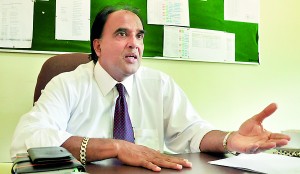 The Sri Lankan team of Rajeev Rajapakse, Harshana Godamanne, Dineshkanthan Thangarajah and Amresh Jayawickreme beat Lebanon by 3-2 in their Asia Oceania relegation play-off, with things going right down to the final match. In a turn from the usual, it was Dineshkanthan, Sri Lanka's bright young tennis hope, and not Godamanne, the country's old Davis Cup warhorse, who notched a decisive victory against Karim Alayli to claim the tie for Sri Lanka, after things were all square at 2-2.
Bin Issack was only recently given a second year as President after he was voted in unanimously. Highlighting Sri Lanka's performance at this year's Davis Cup, he described his past term in office as being successful and stated that he would continue with much of the work he started, such as the implementation of junior tennis programmes, support for national players and initiation of infrastructure development.
"We have achieved a lot of things. We have sorted out the car park, which was going to be taken over by the municipality because the amounts due to the municipality were not paid for 30 years. So we are sorting out everything now. We have done floodlighting for all of the courts, so players who practice at night can play," Mr. Bin Issack said.
"We are also making a lot of investments where players are concerned. This is especially true of our number two player Dineshkanthan, who won a Davis Cup match for the first time. We have invested a lot of money in him and are sending him for tournaments abroad to further his progress."
The tennis president also revealed that the sport was seeing steady growth not just in Colombo but also in outstation regions of the country, where he feels there is an abundance of untapped potential. To channel these resources, the SLTA has launched numerous junior tennis coaching camps and tournaments.
"Earlier tennis was called a rich man's sport but now this is not the case. The whole system has changed and there are a lot of less privileged children who are top-ranked players in the country."
- DS
Follow @timesonlinelk
comments powered by

Disqus