Language of sport — reaction
View(s):

In Tennis, Rod Laver of Australia was called the 'rocket'; Tom Okker of Netherlands was the 'flying Dutchman'; Ille Nastase of Romania, former ice hockey player, was known as the 'skater'; their reaction speed gave them these identities.

Pete Sampras's reaction allowed him to 'pounce' on the ball very early, Federer's reaction made his opponent's life hell. Martina Navratilova's reaction was unique. She mastered the reaction oriented net game and had the longest competition career among women. She played international competition tennis approaching fifty! Fluency and speed of reaction has determines the player's fate, career length and their place in history. Reaction is the 'language' of sport. Good players used it well in their expression.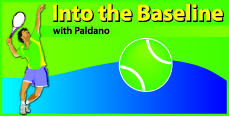 How fast is fast? How quick is quick?
To return a shot in Tennis, on the average a player has to move about four strides to reach the ball and at the most eleven strides at a good speed. A good serve will give less than half a second to return. Other shots average just less than one second to return. Even with these time squeeze, there are 21 shot rallies now! Modern Tennis players have amazing speed as they are super athletes. Tennis was never as fast as it is now. It makes reaction the critical factor to be successful. How good are you? It is a question every player has to answer sooner or later in any sport. Players are as good as their reaction. It is their 'reacting ability' that enables them good to indulge in good techniques and tactics.
Reaction as attraction
Why sport has been a good spectator event? It is the good reaction that attracts, excites, moves emotion of the ever increasing spectator interest. Every winner will have to thank the opponent for the challenge they place to raise their reaction level. The term 'REACTION' implies to overcome the opponent's challenge. Opponent's contribution often goes unnoticed and it is an unfair aspect of sport where the 'winner takes it all.' If reaction is the language of sport, then every participant will be contributing to it. This should be of consolation to the losers.
Currently, Serena William's reaction defies the women's challenge and Djokovic defies the men's in their respective rankings. I have seen Whilhelm Bungert of Germany former Wimbledon finalist volley against a wall standing less than three strides away at a speed that blurred the ball movement and Borg supposed to have done this with his ground strokes at six strides. Legendry players had exiting reaction to watch.
Sustaining reaction
In the longest match of Tennis history, Pancho Gonzales of USA in his forties beat young Charlie Pasarell of Puerto Rico in a match that lasted nearly six hours on the Wimbledon Grass courts. The match was played over two days and had a total of 117 games. In another instant Guillermo Vilas of Argentina held Bjorn Borg of Sweden to a 96 shot rally, also in Wimbledon. Tennis is a high intensity sport. These show the level of the physical capacity needed to sustain reaction.
The reaction chain
The reaction chain in tennis consists of reception to the ball, projection of the ball and repositioning for the next shot. These demands control over many elements. They are mental and physical. Initiation of reaction needs information, strategy, tactics and decisions. They are done with mental guidance. Continuous sighting the ball movement all the time is the single most rewarding factor to initiate good reaction. Five physical attributes contribute to good reaction. They are Strength, stamina, speed, suppleness and stability [Balance]. These also help in repositioning to cover the court and complete the reaction chain. Reposition is often ignored or misunderstood. Many players do not notice its tactical use and value. It can place severe challenge to opponents and it is another key to effective tactics.
Brand for good reaction
Some players even study their opponent to know their reaction level to have an edge over them. Development of reaction chain early is more important than technical perfection of the strokes. Sometimes we see players with poor alternative technique and weak game winning because of their comfort zone in reaction. Since we are made different and play a 'brand' unique to us, comfort zone for reaction differs with individuals. Reaction must match the brand you play for success.
Win also on a bad day
Improve your reaction chain. Good reaction reduces match pressure and increases the tactical options. According to Rod Laver, the last grand slam winner, good players must take the responsibility to win on a bad day also. One way to achieve this is to improve reaction. Focus on reaction – the language of sport.
georgepaldano@yahoo.com
Follow @timesonlinelk
comments powered by

Disqus